Bobsleigh back in action in Europe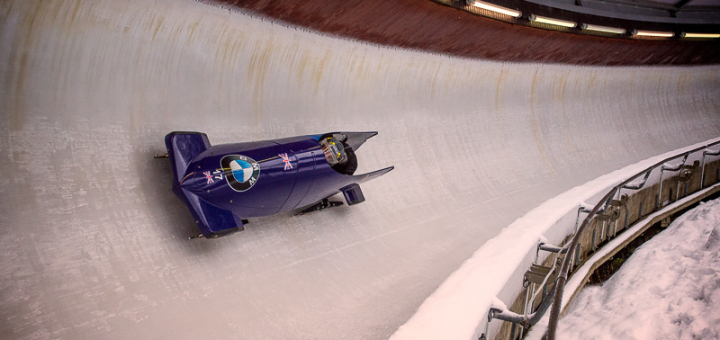 Great Britain Bobsleigh are back in action on this continent this weekend as Gary Anderson's squad compete in both the World and European Cup competitions.
Summer Olympic gold medalist Mark Lewis-Francis makes his first competitive appearance in his new sport, while the nation's most-experienced pilot, John Jackson, returns to action after a lengthy injury lay off.
Lamin Deen, Olly Biddulph, Joel Fearon and Jordan Smallin lead the way for GB in the 2-man competition at the opening World Cup race in Altenberg, Germany, as Anderson opts to split his squad between the two circuits.
Brad Hall, Ben Simons and Bruce Tasker continue on their Accelerated Driver Programme (ADP) with European Cup action in Winterberg, Germany, with Hall piloting Paul Judson, Simons leading off Ben McCullough Young and Tasker taking control of the sled for Lewis-Francis' debut push.
Jackson, who missed the entire 2014/15 season with the Achilles problem that he had initially recovered from in time to make the 2014 Winter Olympics in Sochi, is also involved in European Cup competition this week as he joins up with new recruit Tremayne Gilling.
Female representation begins on Saturday when Youth Olympic silver medalist Mica McNeil leads the challenge in Winterberg with either Natalie DeRatt or Aleasha Kiddle. (McNeil cannot take part in Friday's European Cup runs due to her top 10 World Cup ranking).
"Racing is what all the athletes love doing the most," said GB Bobsleigh Performance Director, Gary Anderson. "Representing your country is an incredible feeling and it's what drives these men and women to put in the hours and hours of hard work during the off season.
We've had a couple of North American Cup races already this season but preparing for the opening races of the World Cup and European Cup really feels like we're suddenly back in the thick of things and you can sense an air of excitement around the squad because of that.
"Up until the third World Cup race in Konigssee in mid-December, we will be splitting our squad between the World Cup and European Cup circuits as our ADP drivers continue their pilot development on three new tracks. The aim is for these guys to be become competitive on all the tracks on circuit when it comes to Olympic qualification, that way giving us the best possible chance to qualify the maximum number of sleds for Pyeongchang in 2018. They will also be attempting to qualify as 2-man drivers for the 2016 World Champs in Igls, as well as maintaining their athletic abilities so that they can also compete for brakeman places on the World Cup circuit later in the season.
"Lamin Deen, who finished fifth in the 4-man event at last season's World Championships, will initially spearhead our challenge on the World Cup circuit, with former Youth Olympian Olly Biddulph leading an all-junior qualified team in preparation for the World Junior Championships."
Lewis-Francis is undoubtedly the sport's most high-profile addition this season but he's not the only new or returning athlete making a real impression ahead of race day.
Anderson can count on a squad packed with as much depth as ever before and that means there's an air of confidence in the camp as GB look to continue their rise up the bobsleigh world rankings.
"We've talked a lot about the quality of athletes now battling for places but that's become even more apparent since they've got back out on the ice," added Anderson.
"It's great to have John Jackson back after a season on the sidelines: he's worked incredibly hard to put his injury problems behind him and I've no doubt he'll quickly remind everyone of just how good a pilot he is. He'll concentrate on peaking for the 4-man competition for the World Championships but will return to action with 2-man racing in the European Cup.
"Olympians Joel Fearon and John Baines are also back with us after a year away and they are already showing the kind of form that saw them shine in Sochi. Plus we've got the likes of sprinters Simeon Williamson and Tremayne Gilling pushing hard alongside Mark and that's a real boost as we aim to ensure we are in the world's top-three fastest starting crews in both the 2-man and 4-man by the time we reach the World Champs in February.
"As for our female athletes, Mica McNeil, who is a Youth Olympic silver medalist, will be joined by Aleasha Kiddle and new recruit Natalie DeRatt and we're confident that they will work well as a squad moving forward."
GB Bobsleigh action this weekend
Friday 27 November
European Cup 2-man, Winterberg, 9am GMT
Crews: Brad Hall & Paul Judson; John Jackson & Tremayne Gilling; Ben Simons & Ben McCullough Young; Bruce Tasker & Mark Lewis-Francis
Saturday 28 November
European Cup 2-man, Winterberg 8am GMT
Crews: Brad Hall & Paul Judson; John Jackson & Tremayne Gilling; Ben Simons & Ben McCullough Young; Bruce Tasker & Mark Lewis-Francis
World Cup 2-man, Altenberg, 12.30pm GMT
Crews: Lamin Deen & Joel Fearon; Olly Biddulph & Jordan Smallin
European Cup Women's, Winterberg, 10.45am GMT
Crew: Mica McNeil & Natalie DeRatt / Aleasha Kiddle