BBSA link up with Bath College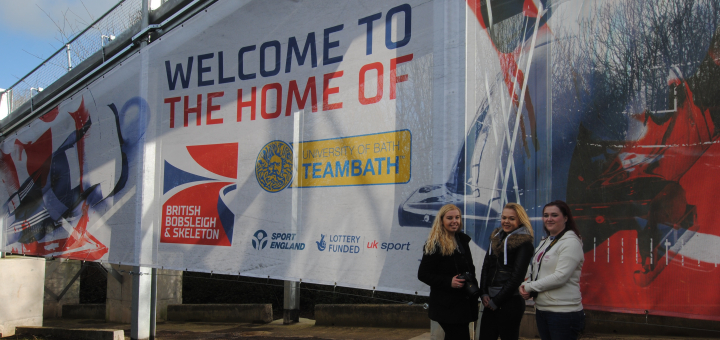 The British Bobsleigh & Skeleton Association are delighted to be able to offer photography students at Bath College unique access to two of the world's fastest sports.
Three students have been chosen to photograph the national teams when athletes return to summer training at the University of Bath in May.
They will have the chance to photograph the training ground, meet athletes and capture the action on the track.
Their work will count towards an end of year assessment at Bath College and could be used on the BBSA website, social media channels and in promotional campaigns.
"We are delighted to team up with Bath College for what should be an exciting project for both parties," said Richard Parker, CEO of the British Bobsleigh & Skeleton Association.
We are keen to build links with local businesses and institutions and I'm very pleased that we can offer students at Bath College the opportunity to photograph our elite sportsmen and women on their journey to the next Winter Olympics in Pyeonchang in 2018.
"Our sports lend themselves to fantastic action imagery and we hope that the students will learn a lot from this unique experience."
Second year photography student Georgia Puckett is taking part in the project, along with third year photography students Kate Dickinson and Kate Hunter.
16-year-old Puckett, who is a big sports fan, said: "I'm very excited - it will be a very different experience. I do a lot of motorcross and I enjoy action photography.
"I want to work with teams and clubs as a photographer in the future, so to get this opportunity is fantastic."
The new partnership could lead to further opportunities for students, such as a student travelling out with the team to photograph athletes training on ice.
David Merriman, Head of Art and Design at Bath College, is looking forward to seeing the students' work.
"I'm really pleased that the photography students in our department continue to have the opportunity to broaden their horizons and work on live briefs," said Merriman.
This venture is particularly exciting as it will provide them with an opportunity to explore some dynamism in their photography and widen their experience of teamwork and travel.
"Our photography tutors will be working with the individual students selected, giving them advice about how to tackle this subject matter."
Bath College Principal Matt Atkinson said: "At Bath College we have a significant focus on developing the employability skills of our students and this fantastic partnership with the British Bobsleigh & Skeleton Association will enable our photographers to develop the skills they need to thrive as professionals."