Youngsters chase Olympic dream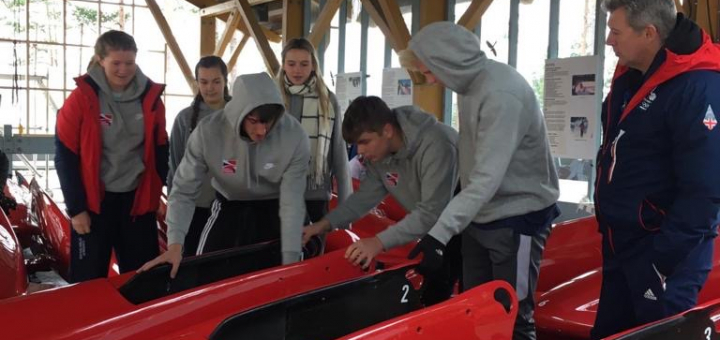 The Olympic dream begins in earnest this weekend for six young bobsledders hoping to star for Team GB at the Youth Games in Lausanne next year.
Lucy Bugler, Charlotte Longden and Éire Rowland-Evans have been named in the British girls' mono-bob squad and Harry Johnston, William Scammell and Luka Williams make up the boys' team that will compete for the country this season, with the ultimate aim of shining at next year's global showpiece in Switzerland.
Supported by team partner Alantra, they will compete against the best in the world at four races at two circuits in Norway and Germany in the next few weeks, before the Games take place at the spiritual home of sliding in St Moritz in January.
The first of those races comes this Saturday in Lillehammer, with the second following at the same venue just 24 hours later.
The new crop of athletes will be hoping to follow in the footsteps of Mica McNeill and Kelsea Purchall after they won silver and bronze at the first two instalments of the Games in Igls in 2012 and Lillehammer in 2016 respectively and Olympic Team Leader Peter Gunn sees no reason why they cannot match those impressive achievements.
"It's an exciting time for these six athletes as they chase the Olympic dream," said Gunn, who has himself been to five Olympic Winter Games as a coach - four with Team GB and one with the 2018 South Korean team who won a silver medal in the 4-man event. 
We have a strong background in youth bobsleigh and we're confident that these six athletes can carry that on this season. They have earned the chance to experience something really special and we have no doubt that they will do the country proud.
"They've worked really hard to get to this stage, demonstrating great commitment, enthusiasm and a capacity to learn, in addition to their obvious talent. They've shown they have what it takes to succeed and we're looking forward to seeing them compete on the world stage this weekend."
The selection process for the season began last summer with a series of trials at the home of the BBSA in Bath, before nine athletes were taken out on ice to Igls in Austria in February for a bob school. Four athletes then travelled to Moritz for their first taste of racing shortly after and the squad have trained weekly in Bath since July.
They were put through testing on the sprint track and the push track in July and September and are now all set for the opening race at 12.30pm GMT (boys) and 3.30pm (girls) tomorrow.
The Youth Olympic Winter Games take place in Lausanne, Switzerland between January 9th and 22nd, 2020.
Did you know?
GB were ranked No1, 2 and 3 in the girls' field and No1, 3 and 4 in the boys' in the lead up to the last Youth Games in 2016. 
The squad are preparing to compete in Norway this weekend 
British Bobsleigh Youth Team 2019/20
Lucy Bugler
Age: 15
School: Beaminster School studying GCSEs
Sporting background: wide range of sports, including netball, athletics, basketball and rounders
Charlotte Longden
Age: 17
School: Marlborough College 
Sporting background: Team Bath athlete at regional and national level; hockey player formerly with Reading Hockey Club and a successful swimmer at national competition level
Éire Rowland-Evans
Age: 17
School: currently studying A Levels at Cheltenham Ladies College (previously at Ribston Hall Grammar) 
Sporting background: Represented England Girls at Tug of War; regularly competed in swimming, rugby and athletics
Harry Johnston
Age: 15
School: Richard Huish College (previously at Bishop Fox's Secondary)
Sporting background: rugby, cricket and athletics; his father, uncle, godfathers and brother have all represented Great Britain in bobsleigh
William Scammell
Age: 16
School: St Augustine's, Trowbridge (previously at Lavington)
Sporting background: previously football but now athletics for Team Bath and Team Avon
Luka Williams
Age: 16
School: Beechen Cliff, Bath (previously at Somervale in Midsomer Norton)
Sporting background: rugby for Bath U18s and Somerset and athletics as a sprinter