Yarnold wins World Championship bronze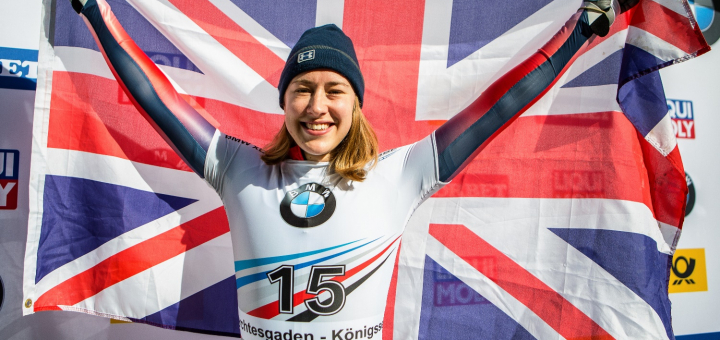 Olympic Skeleton Champion Lizzy Yarnold won World Championship bronze for Great Britain on Saturday.
The 2014 Olympic gold medalist was competing at her first global championships in two years, having taken a season away from the circuit after winning the world title in Winterberg in 2015.
After Friday's second run of the four-run race was cancelled due to heavy snowfall in Konigssee, Germany, Yarnold moved up from fourth overnight to third after clocking the fastest time of the competition in Run 3.
She held that position in the final run, registering an overall time of 2 minutes 36.08 seconds to finish 52 hundredths of a second off silver and 0.73 seconds from gold.
Germany's World No1 Jacqueline Loelling claimed her first World Championship title, with compatriot and 2016 World Champion, Tina Hermann, securing second on home ice.
Yarnold was the only non-German inside the top four, with Anna Fernstaedt immediately behind her, 0.31 seconds back, while fellow Brit Laura Deas also finished in the top ten.
"It's very emotional. I really feel like this is the beginning and this is where the hard work starts," said Yarnold, who now has three World Championship medals, plus Olympic, European and overall World Cup golds to her name.
"I feel as though I've had a season to get back into competition and now I know how to race again. Racing against Germans on their home track is a really tough challenge but I feel like I was consistent here. It's all about being consistent and calm under pressure and dealing with what's in front of you.
I was always confident but I do feel now that I've got back into the swing of things. I never doubted myself - never doubted that I would give my best.
"I do feel like I've developed as a person and in terms of my sliding skill and ability since I won the World title. Even though my results haven't always shown I'm a better slider this season, I know that I am. I've got a better perspective now and a better platform.
"I can't thank everyone in my team enough for being so patient with me and pushing me on when I needed it and telling me to cool off when I needed that, too."
Lizzy Yarnold was in the medals alongside Hermann & Loelling
Deas finished 10th in a time of 2 minutes 37.21 to better her result at last year's competition in Igls when she was 11th. Ranked No7 in the world, Deas had been in second spot before Run 2 was cancelled but she jumped up from 13th overnight to end up just 0.37 seconds outside the wider podium places.
Donna Creighton placed 22nd in the 31-strong field, missing out on a spot in the top 20 and Run 4 by 0.46 seconds.
The men's competition concludes on Sunday morning from 7.30am GMT, with Dom Parsons the highest-ranked Brit in ninth position at the halfway mark.