Yarnold to lead Team GB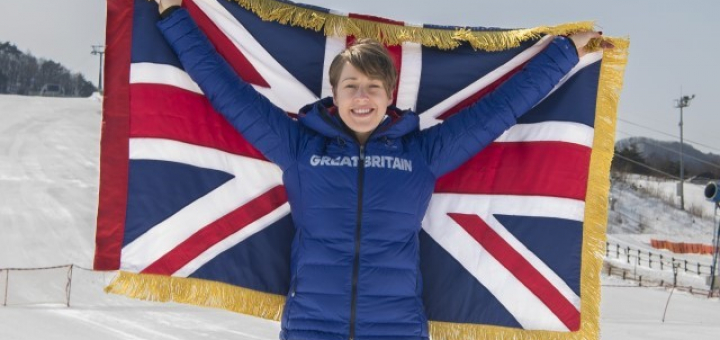 Olympic champion Lizzy Yarnold will lead Team GB into tomorrow night's Opening Ceremony of the PyeongChang 2018 Olympic Winter Games after being selected as Flagbearer today.
Yarnold will lead Team GB athletes into the PyeongChang Olympic Stadium where the Opening Ceremony will officially mark the start of the 23rd Olympic Winter Games. Team GB's 59 athletes are set to compete across 11 sports in the 16 days of competition that follow.
The 29-year-old, who was chosen as Flagbearer for the Closing Ceremony four years ago at Sochi 2014, will look to defend her title when the women's event gets underway on Friday 16th February.
Yarnold is aiming to become the first British Winter Olympian to retain her Olympic crown, with her success in Sochi following three successive skeleton medals with gold for Amy Williams in 2010, silver for Shelley Rudman in 2006 and bronze for Alex Coomber in 2002.
The winning margin of 0.97 seconds in Sochi was the largest in Olympic history as Yarnold registered two track records and the fastest down time in each of the four runs.
Yarnold won every major accolade in the sport in just 407 days across 2014 and 2015, with an overall World Cup season win, a European Championship title and a World Championship crown completing a remarkable 14-month stint for the former heptathlete.
Lizzy Yarnold will carry the Union flag in PyeongChang this Friday
Yarnold took a season away from the ice in 2015/16 but returned to the circuit last season, winning a silver World Cup medal in Lake Placid and a bronze at the 2017 World Championships in Konigssee in February.
The current World Cup campaign began with another bronze in the opening race in Lake Placid in November and concluded with a fourth-place finish in Konigssee last month as she placed ninth in the overall World Cup rankings.
Team GB will enter the stadium sporting adidas's artic climaheat tech jacket, fitted with down insulation and a temperature threashold of up to -40 degrees. Athletes will also be kitted out with a fleece-lined beanie hat, salopettes and Continental soled boots as well as base layers, gloves and hand-warmers.
"My first reaction when I was asked to be Flagbearer was complete excitement and I'm really proud to march in front of the whole team," said Yarnold, who is one of four British Skeleton sliders out in South Korea.
There are so many talented athletes competing here for Team GB at this Olympic Games and hopefully this can be the start of our most successful ever Winter Olympics.
"Being Flagbearer at Sochi felt like a real celebration whereas this time around it's a completely different responsibility. This could be the start of something really special and I hope the other athletes aren't too far behind me as we're very much one team going into these Games."
Mike Hay, Team GB Chef de Mission for PyeongChang 2018, said: "As a defending champion and model athlete, Lizzy is the ideal choice to lead Team GB into the Olympic Stadium tomorrow evening.
She has achieved so much in skeleton over the last four years and I'm sure this will be another proud moment for one of our finest winter athletes.
"For the rest of the delegation, to follow behind an Olympic champion into the Opening Ceremony will no doubt be great boost for what we hope will be a successful and memorable Games for Team GB."
Did you know?
With Lizzy Yarnold set to carry the Union flag in South Korea, British Skeleton athletes will have held the honour at each of the three most recent Olympic Winter Games.
Yarnold carried the flag at the closing ceremony in Sochi four years ago, while Amy Williams did the same in Vancouver in 2010 after Shelley Rudman had been given the task at the opening ceremony in Canada.