Yarnold & Deas in medal mix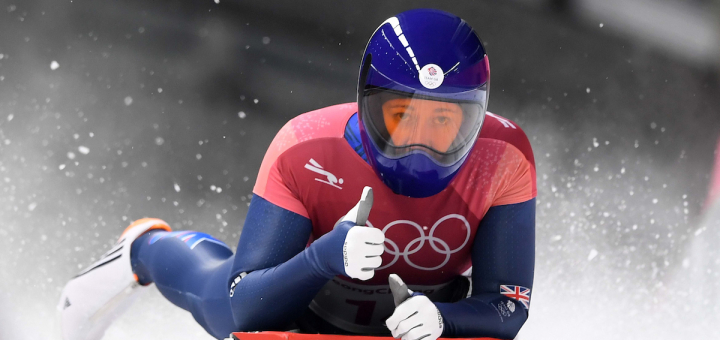 Lizzy Yarnold and Laura Deas both have hopes of emulating Dom Parsons' medal success after impressing on the first day of the Women's Skeleton competition at the Winter Olympics in South Korea.
Yarnold occupies third spot after the first two of four scheduled runs, with Deas just a fraction behind her team-mate in fourth.
And with the gap between race leader Jacqueline Loelling and the British pair just 10 hundredths and 17 hundredths of a second respectively, hopes are high that they can match bronze medalist Parsons in finishing on the podium in PyeongChang.
"It's a good position to be in, especially with Laura being so close as well. We'll go back and have a cup of tea tonight to see what we can do to make sure we're both on the podium tomorrow!" said Yarnold, who led after Run 1 and eventually clocked a two-run time of 1 minute 43.96 seconds compared to Deas' 1 minute 42.03.
"We're very lucky that we share information and help each other and I can't wait for tomorrow.
"I really enjoyed the track. The ice was very fast but I wasn't surprised by that - an evening race always means harder ice and faster ice.
I relish great competition. It doesn't really make any difference to me whether I'm the chaser or the one being chased - it's all about me and the track.
"In my head, it's very simple: it's me, my sled and the track and it's about having a good, solid four runs, regardless of anyone else's performance."
Deas sat in sixth spot after Run 1 but jumped up two places in Run 2 after overtaking German duo Anna Fernstaedt and Tina Hermann with the second-best time of the heat.
And, with the second fastest start time in Run 1 and the third quickest in Run 2, together with the confidence of finally becoming an Olympian, Deas believes she is well placed to kick on come tomorrow's finale.
"To be sat less than a tenth of a second outside a medal, I'm so pleased with that," said Deas, for whom Parsons' remarkable result hours earlier had a definite impact .
"I was nervous at the start but I'm confident in all the work I've put in over the years. I was just pleased to get going - it's been a long wait.
That second run has kept me in contention, which is great.
"Watching Dom was incredible. It was heartbreak to elation in less than three minutes. I could barely cope! I'm so, so pleased for him. He's worked so hard for so many years and I'm really pleased that everyone can now see what a good slider he is and he can have his moment."
Laura Deas is fourth overnight (c) Garry Bowden 
Those sentiments were echoed by reigning champion Yarnold, who insisted that the incredible efforts from their male counterparts means the dream of three medals at a single Olympics is within touching distance.
"I take inspiration from the men's race, and not just from Dom, who was awesome," added Yarnold.
"Jerry (Rice) had his best result by far (Rice was 10th). They just brought it on race day. They looked calm and they enjoyed it. We have the same team and the same support staff around us - we can't get there by ourselves - so knowing that those coaches helped the guys get their results means I know that Laura and I can hopefully do the same.
"Winning three medals is more than we could really have dreamed of, but we did dream of it! We've challenged ourselves and pushed ourselves. This is not a recent thing: the plan from Andi Schmid (Olympic Team Leader) and Danny Holdcroft (Head of Performance) has been engineered over four to eight years. They dared to dream it and hopefully we can make it come true."
Runs 3 and 4 of the Women's Skeleton take place from 11.20am GMT (8.20pm local time) on Saturday.