Wyatt wants more of the same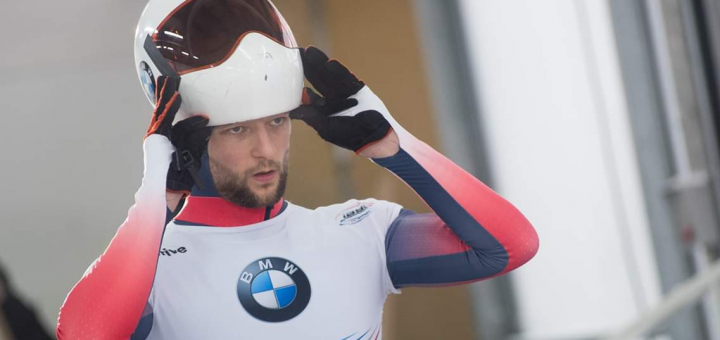 Great Britain's Marcus Wyatt is looking to continue his superb start to the skeleton season when the European Championships come to Igls on Friday.
The 27-year-old recorded his best-ever World Cup result in the last race in Altenberg a fortnight ago as he started the new year in the same style in which he ended the last.
Having triumphed in the national selection race in Lillehammer in October, Wyatt won his first international gold with victory in the Intercontinental Cup (ICC) in Igls in November. He finished the ICC section of his third full season wearing GB colours with three more medals, before backing up those strong second-tier showings with 12th, 10th and eighth-place finishes in the first three World Cup races of the campaign.
And, while it was clearly frustrating to see last week's race in Konigssee cancelled due to adverse weather conditions (especially as it came on the back of a two-week break for Christmas), the former American Footballer remains in confident mood ahead of the continental championships in Austria.
"It's been a tough couple of weeks with the race in Kongissee cancelled and training time reduced here in Igls but I'm still in really good spirits given what's happened so far this season," said Wyatt, who came within a whisker of making the Team GB squad for the Olympic Winter Games in PyeongChang last February.
My season so far has gone as well as I could have hoped for, really.
"Winning the national selection race was always something I wanted to do this year. Jack (Thomas), Jerry (Rice) and I are super tight so it was nice to show that I was in good form going into the start of the season. To follow that up with my first ever win in Igls was great and that gave me confidence to really push on.
"I'd only raced at Sigulda once before and it's a tough, driver's track so I was pleased with 12th in the first World Cup of the season. Winterberg was a classic Winterberg race for the second World Cup – tight racing. Apart from Tretiakov (race winner Alexander Tretiakov), everyone was bunched together. That's what you're going to get from a short, pusher's track like Winterberg. To go top 10 was one of my targets and I executed two of my best runs on race day, when it really mattered. To do that when training hadn't been going so well was really pleasing.
"Things went even better in Altenberg. To finish eighth was another step forward and another reminder that I'm on the right track. Pretty much every race I go to now, I like to think that, if I slide well and hit my key areas, I can get inside the top 10. That's the aim again this week. I like Igls as a track but I've got a feeling it's going to be another really tight race. If I can execute on the day again, I'd like to think I can be in that mix."
Marcus Wyatt is currently ranked No 7 in the world
Wyatt joined British Skeleton on the back of watching the 2014 Winter Olympics in Sochi. He first competed for his country in March 2016 and he was winning medals as early as January of the following year.
His rapid improvement continued into last season when he finished 10th on his World Cup debut here in Igls in December 2017. That progress saw him push for an Olympic spot of his own before he was eventually pipped to the post by bronze medallist Dom Parsons and Jerry Rice, who himself placed 10th in PyeongChang.
An invitation to travel to the Games as part of the British Olympic Association's Ambitions programme for potential future Olympians lessened the blow of missing out and Wyatt has gone from strength to strength since returning from South Korea.
"I've always said that I want to keep on making small improvements," added Wyatt, who was the second quickest starter behind Tretiakov in Altenberg the week before last.
The progress I've made since starting competing has been great but I've never got carried away and there's no danger of that happening now, either.
"It's nice to see all the training we do paying off, though. We spend six-eight months a year pushing on the push track but you're never 100 per cent sure that everything you're working on will transfer to your start on the ice.
"Everything I've done with my coaches so far seems to be improving. Each year, I'm taking a few hundredths of a second off my start. The aim is to eventually be the quickest in the world and, even though that will be a long process, it's great to see that I'm going in the right direction. I just hope that I can keep that up over the next few years.
"In the short-term, I'm now looking to continue this form through the rest of the season and then, hopefully, on to the World Championships in Whistler in March. It would be great to get there and see what I can do over four heats on a difficult track, but one that I do like. It's potentially a pretty exciting couple of months ahead."
Wyatt joins Rice and Jack Thomas in the British team for Friday's race, which starts at 8.15am GMT.
Laura Deas, who missed a European Championship and World Cup medal by just one hundredth of a second here 13 months ago, leads the way in the women's event that follows from 1.30pm, with Kim Murray and Madelaine Smith joining the Olympic medallist in the team at a track where all three have experienced success so far this season.
Deas won back-to-back ICC silvers behind home favourite Janine Flock in November, while Smith won double Europa Cup gold and Murray placed second and fourth behind Smith that same month.
You can watch all the World Cup action via the International Bobsleigh & Skeleton Federation website and on their YouTube channel.
Friday, January 18th @ 8.15am GMT
Men's Skeleton: Jerry Rice, Jack Thomas, Marcus Wyatt
Friday, January 18th @ 1.30pm GMT
Women's Skeleton: Laura Deas, Kim Murray, Madelaine Smith
There is also World Cup bobsleigh action also this weekend, with the women's and 2-man races taking place on Satuday at 8am and 1pm respectively and the 4-man scheduled for 1pm on Sunday.