Wyatt leads super start for Skeleton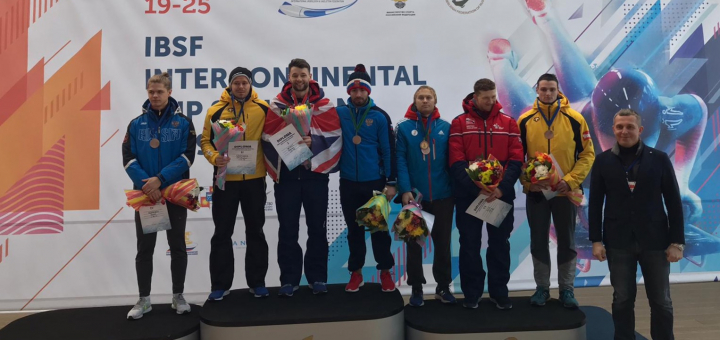 Marcus Wyatt gave the British Skeleton team a dream start to the new season as he won Intercontinental Cup gold and silver in successive races in Sochi on Saturday and Sunday.
Wyatt, who had chosen to race in the ICC opener in Russia after the start of the World Cup season was postponed by a week, missed out on gold in Race 1 by just four hundredths of a second to Germany's Christopher Grotheer on Saturday, before storming to victory in Race 2 less than 24 hours later.
It was Wyatt's second victory for his country following last season's ICC success in Igls and it bodes well for a new season in which he hopes to push on from his fine sixth place finish the world rankings last time around.
The 27-year-old former American Footballer, set a track record in the first run of the first race and was either the fastest or second quickest starter in each of his four race runs across the weekend.
Fellow Brit Jerry Rice also made the wider podium in both races, with the 2018 Olympian finishing fifth on Saturday and joint sixth on Sunday.
And there was a third medal for GB in the women's races as Maddy Smith won bronze on Sunday.
Smith, who, like Wyatt, had won the national selection race in Lillehammer at the start of the month, finished fifth on Saturday before making sure of a medal the following day, thanks in part to the fastest start of the entire field in her final run of the week.
Having placed seventh on Saturday, 2016 Youth Olympic Champion Ashleigh Pittaway moved up to fifth on Sunday to ensure all four Brits were on the wider podium for the last medal ceremony of the event.  
Next up for Smith and Wyatt is the World Cup opener in Lake Placid on December 7 and 8, while Pittaway and Rice head to Winterberg for the third race on the ICC circuit that same weekend.
Ashleigh Pittaway and Maddy Smith also enjoyed success in Sochi
Bobsleigh...
Elsewhere this weekend, Brad Hall competed for GB in the opening race of the Europa Cup bobsleigh season in Lillehammer but a crash on his first run in the 2-man event brought his weekend to a premature end.
Hall took a heavy contact coming into corner 14 and, although he and Sam Blanchet made it to the finish line, it meant they ended the first run in 21st place and therefore didn't qualify for a second lauf.
And, while both Hall and Blanchet did not suffer serious injury in the crash, they opted not to compete in the following day's four man in favour of ensuring they are fully rested and recovered for 12 days' of training and racing in Altenberg over the coming fortnight.
Brad Hall and Sam Blanchet began their season in Lillehammer
There was positive news in the team's 2-man start time, though, as Blanchet marked his squad comeback with the joint third fastest time off the top in a big field in Norway. The former England Rugby Sevens cap hadn't competed since 2018 after a nasty injury prompted him to take a year-and-a-half out of the sport but he showed he is in impressive condition ahead of the next three races in Germany in the lead up to Christmas.