Changes as World Cup returns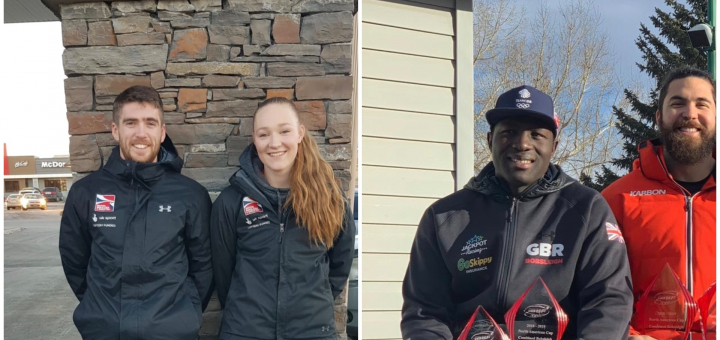 The World Cup circuit returns after a two-week break this weekend and both the British Bobsleigh and Skeleton teams have made personnel changes for Lake Placid.
In the skeleton events, Ashleigh Pittaway and Craig Thompson replace Kim Murray and Jack Thomas in the team in New York State, with Lamin Deen returning to action for British Bobsleigh after sitting out the European leg of the World Cup tour.
Pittaway returns to the top circuit 14 months after her last World Cup appearance in Winterberg and fresh from a fine third-place finish at this month's World Junior Championships.
The 18-year-old recently won overall silver on the Intercontinental Cup circuit as she finished that part of the season with gold and silver medals at the venue for Friday's race.
Thompson steps up to elite level for the first time since joining the British Skeleton Ignite-backed Talent team in 2014. The former footballer matched Pittaway's achievement in winning overall ICC sliver and has already medalled three times so far this season.
"Ashleigh and Craig have both performed well this season - and hit their selection criteria - so they fully deserve their opportunity to compete at World Cup level this month," said Interim Performance Director, Natalie Dunman.
"They have both achieved a number of impressive results in recent weeks and they've also been consistent wherever in the world they've been sliding.
It's a good chance for them to see if they can continue that form at a higher level but it's also a good building block for their future development.
"This doesn't mean that the season is over for Kim or Jack, though. They were due to slide in the cancelled World Cup 5 race in Konigssee and they will be in the team when that rescheduled race takes place in Calgary at the end of the season. We'll then have some tough selection calls to make for the World Championships in March."
Deen missed the World Cup races in Sigulda, Winterberg, Altenberg, Konigssee, Igls and St Moritz earlier this season as he instead competed solely in North America.
The 2014 and 2018 Olympian has already raced 16 times so far this term, though, including on four occasions in Lake Placid where he won bronze and silver medals in North American Cup competition.
In the women's race, Montell Douglas hopes to be fit to partner Mica McNeill on Saturday after an ankle injury ruled her out of the recent races in Igls and Moritz. Britain's former fastest woman is back in training in Lake Placid and will be keen to build on the fine fifth-place finish she and McNeill achieved at the European Championships the last time they teamed up.
Fellow British pilot Brad Hall won't be racing this weekend as he now turns his attention to his own preparation for the World Championships. The 28-year-old has already completed 10 World Cup races across 2-man and 4-man so far this season and is currently training on the ice push start facility in Calgary where he, Nick Gleeson, Ben Simons and Alan Toward have been joined by Joel Fearon as the sub-10 second 100m sprinter continues his comeback from injury.
Race schedule:
Fri 15 Feb
Women's Skeleton 1.30pm
Women's Bobsleigh 6pm & 8.15pm*
Men's 2-man Bobsleigh 7pm & 9.15pm*
Sat 16 Feb
Men's Skeleton 2pm
Men's 4-man Bobsleigh 6.30pm
*1st run Women's Bobsleigh, 1st run 2-man Bobsleigh; 2nd run Women's Bobsleigh, 2nd run 2-man Bobsleigh
All times are GMT