World Cup bobsleigh round up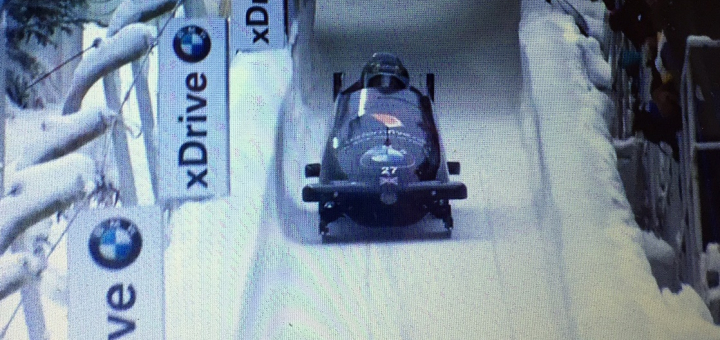 The weekend's bobsleigh action ended with 12th and 16th place finishes for Great Britain in the World Cup 4-man competition in Altenberg.
Lamin Deen and his team of Mark Lewis-Francis, Tremayne Gilling and Andrew Matthews were narrowly outside a top 10 spot, while Olly Biddulph and his crew of Sam Blanchet, Ben Simons and Joel Fearon were 0.29 seconds further back.
Biddulph led his British team-mate by two hundredths of a second after the first run and, despite slipping from 12th to 16th by the end of the event, still recorded his best-ever World Cup finish in 4-man or 2-man racing. Today's result saw him go one place better than he did in the 4-man race in La Plagne in February 2015 and it was a two-spot improvement on his performance here in Altenberg last season.
Both teams clocked remarkably consistent start times across both runs, with all four British starts timed at 5.22 seconds. Deen and co registered overall times of 55.09 and 55.38 seconds as they moved up a place in Run 2, while Biddulph followed up a 55.07 first heat time with 55.69 in his final effort.
Germany's Johannes Lochner claimed his maiden World Cup win, with Russian Alexander Kasjanov taking silver ahead of Francesco Friedrich.
In Saturday's 2-man races, Deen finished 21st alongside Blanchet, with Bruce Tasker and Toby Olubi suffering a crash late on in their first run. There was similar disappointment for the women's crew of Mica McNeill and Mica Moore after they overturned close to the finish of Run 1 in Friday's session.
The World Cup circuit now heads west to Winterberg, with Race 4 next weekend also doubling as the European Championships.
World Cup (Altenberg, Germany). 4-man Bobsleigh: 1 J Lochner (GER) 1m 48.73s (54.28s & 54.45); 2 A Kasjanov (RUS) 1-49.14 (54.55 & 54.59); 3 F Friedrich (GER) 1-49.40 (54.52 & 54.88); 12 L Deen (GB) 1-50.47 (55.09 & 55.38); 16 O Biddulph (GB) 1-50.76 (55.07 & 55.69)