Williamson fifth on debut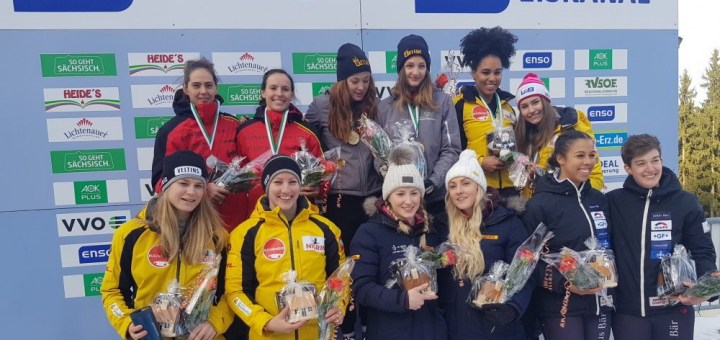 Victoria Williamson marked her first race as a bobsleigh athlete with a fifth-place finish in the Europa Cup event in Altenberg on Friday.
Williamson announced her switch from cycling earlier in the week as she swapped one Olympic dream for another two years out from the Beijing Games.
Having won more than 20 medals in her time with British Cycling - including at World Championship and World Cup level - the 26-year-old was just over half a second from starting her bobsleigh career in the same fashion.
Williamson partnered Mica McNeill as they clocked a combined time of 1 minute 55.46 seconds in Altenberg in what was McNeill's first race since the World Championships in February.
McNeill & Williamson were racing together for the first time
Romania's Andreea Grecu and Katharina Wick took gold but the only other sleds to finish above McNeill and Williamson were a trio of Germans on home ice.
The next race for the British pair comes on another German track as they go again in Winterberg at 8am GMT on Saturday.
Lamin Deen's crew placed sixth in the EC 4-man
Lamin Deen and his team also secured a wider podium place (top six) in the 4-man event on Sunday afternoon as they kicked off their race season with a strong showing.
Deen, Ben Simons, Olly Butterworth and Tremayne Gilling finished four tenths of a second from a bronze medal in a race in which the top four spots were taken by German sleds.
That result came 24 hours after Butterworth had made his international debut when placing ninth with Deen in the second of two successive 2-man races. Ryan Letts and Deen finished 11th in the first 2-man competition, with Brad Hall and Sam Blanchet sitting fifth at halfway in the opening race before pulling out of the second run and subsequently opting not to compete in the 4-man.