What's on? Weekend preview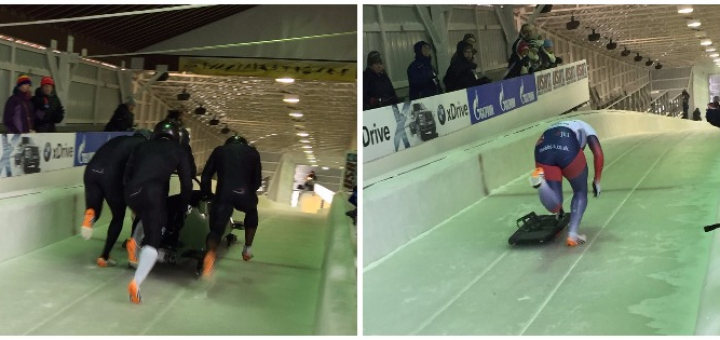 GB Bobsleigh and GB Skeleton both return to action this weekend as the World Cup and North American Cup circuits get back underway.
Both sports have sent squads to the World Cup competition in Altenberg, Germany, with our skeleton sliders also taking on their international counterparts in Park City in the United States.
It's the women who will get things started in 2017 as the World Cup skeleton race at 9am GMT on Friday is followed by the women's bobsleigh at 1pm the same day.
Laura Deas and Lizzy Yarnold will represent GB in the women's skeleton, with Yarnold looking to build on her silver medal in what was her second race back in Lake Placid last time out and Deas returning to the track where she won her maiden World Cup race in November 2015.
Mica McNeill and Mica Moore continue their partnership in the women's bobsleigh - a partnership that resulted in three medals on the North American Cup circuit before Christmas and one that has competed in both World Cup races to date - before the men take to the stage on Saturday and Sunday.
Dom Parsons and Jack Thomas get Saturday started at 8.30am in the men's skeleton and Lamin Deen and Sam Blanchett and Bruce Tasker and Toby Olubi compete in the 2-man bobsleigh at 12.30pm. Blanchett makes his second World Cup appearance since making the switch from professional rugby, while Tasker and Olubi will be looking to build on their historic silver medal at the very same track on the Europa Cup circuit last month. The pair claimed GB's first Europa Cup 2-man medal for close to six years and were just 0.01 seconds from breaking the start record with a time of 5.13 in Altenberg.
The 4-man bobsleigh then brings the World Cup weekend to a close at 9am on Sunday, with GB fielding two crews for the first time this season. Deen retains his crew of Mark Lewis-Francis, Andrew Matthews and Tremayne Gilling after they grabbed a podium place with sixth spot in Placid, while two members of last season's GB1 World Championship crew, Joel Fearon and Ben Simons, will compete for the first time this term when they join Blanchett in Olly Biddluph's sled.
GB Skeleton's North American Cup sliders have a double race weekend, with Donna Creighton, Maddy Smith, Kenny Howard, Jerry Rice and Marcus Wyatt all in action.
There is World Cup racing for five weeks straight now, with Winterberg, St Moritz and Konigssee also hosting events in January and Igls the venue for World Cup 7 on the first weekend in February.
The World Championships take place in Konigssee between February 17 and 26, with the final World Cup race at the venue of the next Winter Olympic Games in Pyeongchang in the middle of March.
The three other circuits all conclude this month, with the final two North American Cup races scheduled for Lake Placid between January 19 and 26; the Europa Cup competition finishing with races in St Moritz, Altenberg and Winterberg; and the Intercontinental Cup heading to Calgary and Placid on the weekends of the 12 and 26.
WORLD CUP RACE 3: ALTENBERG, GERMANY
*All times are GMT
Fri 6 Jan
Women's Skeleton 9am
Women's Bobsleigh 1pm
Sat 7 Jan
Men's Skeleton 8.30am
Men's 2-man Bobsleigh 12.30pm
Sun 8 Jan
Men's 4-man Bobsleigh 9am
The action will be live on the International Bobsleigh & Skeleton Federation website and via their YouTube channel
You can also receive regular updates via our social media channels: @the_bbsa on Twitter and BritishBobsleighandSkeleton on Facebook
NORTH AMERICAN CUP RACES 5 & 6: PARK CITY, USA
Sat 7 Jan
Women's Skeleton 4pm
Men's Skeleton 4pm
Sun 8 Jan
Women's Skeleton 5pm
Men's Skeleton 5pm