Deas secures second podium place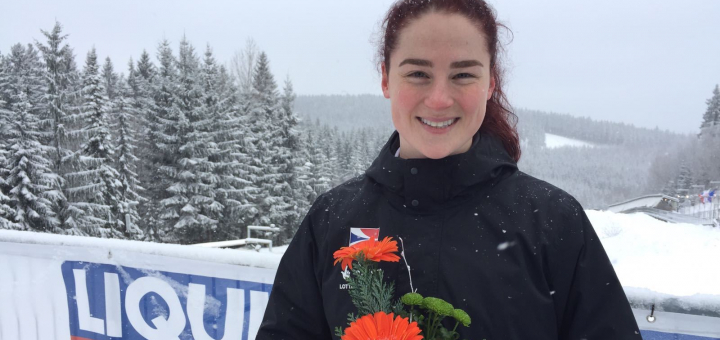 Laura Deas secured a second successive wider podium place as she finished sixth in the first international skeleton race of 2017 on Friday morning.
Deas matched her result from Lake Placid last time out in the third World Cup event of the season in Alternberg, Germany.
Fellow Brit Lizzy Yarnold was ninth in the third race of her return to the circuit as Jacqueline Loelling claimed her first World Cup gold in her home country. Loelling, who now takes over from Yarnold at the top of the global standings, is the third race winner in as many events this season.
Reigning World Champion Tina Hermann took silver and Canada's Janine Flock grabbed the bronze as Loelling triumphed by just under half a second over the two runs.
Yarnold and Deas sat sixth and seventh respectively at the end of the first heat, with the British pair separated by just 0.05 seconds after times of 59.32 and 59.37.
Deas produced the fastest start in both runs with times of 5.54 and 5.49 seconds and was even more consistent in her overall times as she went marginally quicker in Run 2 than she did in Run 1.
Yarnold was within touching distance of fourth at the halfway stage but slipped down the list during a snow-effected second run.
"We're into a pretty full on part of the season now with races five weeks running and I want to make sure I'm in and around the podium places every time I compete," said Deas, who moves up from ninth to eighth in the world rankings.
"I've said on lots of occasions that I want to be consistent and both runs were very similar times so that's a definite plus.
The start times were also something to be pleased with: being the fastest starter on each run is definitely a step in the right direction and it's a confidence boost to take with me to Winterberg next week.
"I know that a mistake in corner 4 in the first run cost me a lot of time and that was obviously disappointing, but I'm pleased with how I came back in Run 2."
The men's race takes place at 8.30am GMT on Saturday, with Dom Parsons and Jack Thomas in action for GB.
In the Women's Bobsleigh, Britain's Mica McNeill and Mica Moore suffered a crash late on in their first run and were subsequently disqualified as Moore had fallen out of the sled inches before the line.
World Cup (Altenberg, Germany). Women: 1 J Loelling (GER) 1m 57.17s (58.58s & 58.59); 2 T Hermann (GER) 1-57.61 (58.90 & 58.71); J Flock (CAN) 1-57.71 (58.94 & 58.77); 6 L Deas (GB) 1-58.71 (59.37 & 59.34); 9 L Yarnold (GB) 1-59.27 (59.32 & 59.95)
World Cup standings: 1 J Loelling (GER) 619pts; 2 J Flock (CAN) 561; 3= T Hermann (GER) 554; 3= L Yarnold (GB) 554; 8 L Deas (GB) 496