Awesome feeling for Tomo in Igls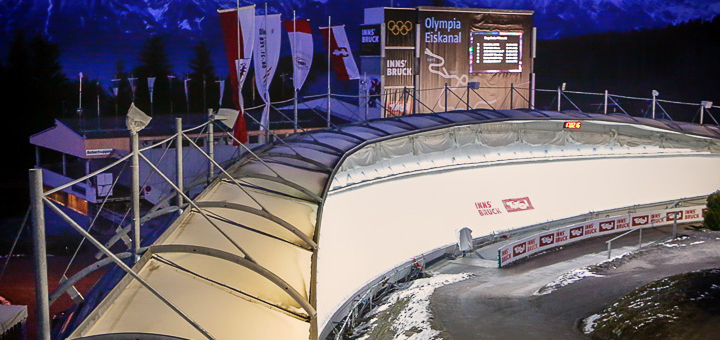 Craig Thompson admits it was a special, if somewhat unexpected feeling, to see his name at the top of the leaderboard after winning the Intercontinental Cup opener in Austria earlier today.
The 26-year-old former footballer from Swindon beat compatriot Marcus Wyatt to gold by two hundredths of a second in a thrilling race in Igls near Innsbruck.
Thompson didn't even realise he'd finished in the No1 spot until a couple of minutes after the race finished but he insists that taking glory for your country is a feeling worth waiting for.
"It was great feeling to see 'Craig Thompson GBR first' flash up. It was a pretty special moment," said Thompson, who is one of a number of potential stars for the next Olympic Winter Games in Beijing in four years' time.
"It wasn't something I'd thought about. While I always go into a race wanting to win, this was unexpected.
"I didn't know I'd won to start with. I was four hundredths ahead at the end of the first run and, when I got to the bottom at the end of the second run, I thought I'd come third because that was my position for the second run on its own.
I thought 'Oh, no, I blew it!' Everyone was saying 'Congratulations' and I was like, 'Yeah, thanks', but I was pretty downbeat.
"It was only when Andi Schmid (ex British Skeleton Performance Advisor who was watching the race in his native Austria) said 'You won Craig' that I actually realised!
"It was the closest race I've ever been in and the best race I've been in. I won the first Europa Cup race of last season and that was a great feeling. That feeling doesn't change - it's awesome."
Thompson joined British Skeleton via the Power2Podium talent ID process in 2014 but has been dealt a rough hand on the injury front since winning North American Cup bronze on his international debut in March 2016.
Having already forged a reputation as one of the world's fastest starters, Thompson suffered a torn meniscus (twice), a torn quad and a torn hamstring as he looked to continue his progress.
After taking gold in Lillehammer in the first race of last season, he finished fifth in the overall Europa Cup standings despite injury forcing him to sit out three of the year's eight races.
"It's perhaps unsurprising then that it is a desire to get a solid run of competitive action in the bag and hone his technique rather than worrying about results that was Thompson's motivation for both the opening race and the year ahead.
"I didn't go into the race with any real targets about the result: it was more about focussing on the process. I knew what corners I was struggling with and what key areas I needed to work on. I just needed to focus on the fundamentals. I knew that if I got the basics right, the result would take care of itself," added Thompson.
Consistency is the key moving forward. I'm hoping this will be my first full race season: if I can get eight good races under my belt, I'll be pleased with that.
"I'm not focussed on the outcomes, it's more about knowing I've got everything set up, that I identify my weak points and go after them and make them stronger, while also making my strong points great points.
"I can't get too carried away because it's only the first race of the season and we've still get seven more ICC races left. It's pretty impossible to get too carried away when we've got another race tomorrow!
"I'll keep my feet on the ground but I'm definitely really happy with how it went. It feels like it's going to be a good year and I'm excited by it."
Thompson races again at 8.30am GMT tomorrow, with 11 other British sliders also in action in Igls in Intercontinental and Europa Cup action.