Top 12 for Wyatt at Worlds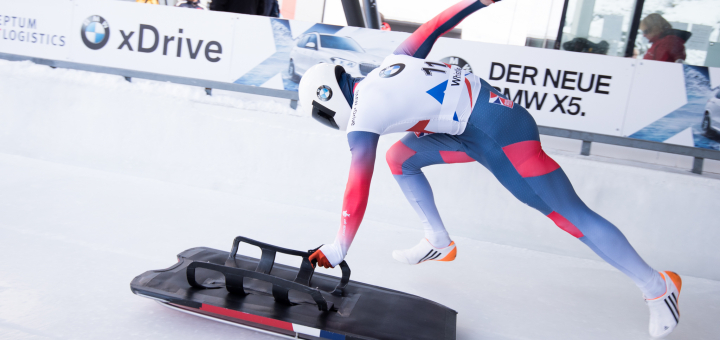 Marcus Wyatt finished 12th on his World Championship debut in Whistler on Friday night.
The 27-year-old from Devon was the top-placed Brit in the men's race at the biggest event of his career to date.
Wyatt sat joint 14th overnight following Thursday's first two runs of the four-run race before jumping up two spots in Run 3.
The former American Footballer then held that 12th position in the final run in Canada, increasing the gap to the chasing pack but just being unable to make a play for the top ten.
The result caps a brilliant breakthrough season for the Swansea University graduate after he finished his first full World Cup season ranked sixth in the world.
He recorded a career high fifth in Calgary two weeks ago and was only outside the top ten once in eight races prior to the World Championships.
His efforts in Whistler included the first and second fastest start times in Runs 2 and 4 respectively and his 12th position came despite having only competed once before on the world's fastest track.
Fellow Brits Jerry Rice and Jack Thomas finished 21st and 27th as they both missed out on the top 20 spot needed for a place in Run 4.
Jerry Rice just missed out on a fourth run in Whistler
Rice, who was 10th at his maiden Olympics 13 months ago, maintained his overnight position but couldn't close the gap on America's Kyle Brown for the last place in the final run.
Thomas was 26that the end of Day 1 but the gap to the top 20 was always going to be difficult and, in trying to do just that, the 28-year-old eventually slipped back one spot.
Martins Dukurs cemented his position as an all-time great as he won his sixth World Championship crown. The Latvian beat Olympic silver medallist Nikta Tregubov to the gold by half a second to make it four World Championship wins in a row. 
South Korea's Olympic Champion, Sungbin Yun, took bronze, with Germany's Christopher Grotheer and Latvia's Tomass Dukurs completing the top five.