Three more medals for bob teams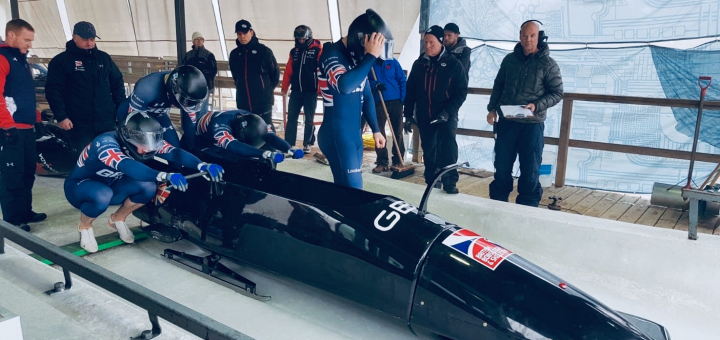 British Bobsleigh won three more medals in just two races on Wednesday night.
Having seen Mica McNeill and Montell Douglas win back-to-back North American Cup (NAC) golds in Park City, Lamin Deen and Brad Hall piloted their 4-man crews on to the podium at the same venue.
Deen's team of John Baines, Ryan Letts and Tremayne Gilling picked up silver in the first of yesterday's successive races before winning bronze in the second, while Hall, Ben Simons, Nick Gleeson and Alan Toward finished second in Race No 2.
Deen recorded a time of 1 minute 36.39 seconds first time out to finish behind only Monaco's Rudy Rinaldi, with Hall a tenth of a second outside the medals in fourth.
Both British crews then went agonisingly close to gold in Race 2 as they missed top spot by just three and four hundredths of a second respectively.
Hall's crew clocked the quickest time in the first run in the second race and Deen's team were the fastest in Run 2 but both were pipped to gold by Dominik Dvorak of the Czech Republic.
Last night's results mean the team finished the week with five medals and four wider podium spots from 10 races in Utah.
"It's been a good week here in Park City and there are lots of positives for us to take forward," said Head Coach, Lee Johnston.
"We learnt a lot about our equipment and our starts in Whistler the week before but Whistler was a mixed bag in terms of results so it was great to see the performances improve here in all three disciplines.
"Mica and Monty did a great job in winning both their races, particularly as Mica had a bump in Whistler and Aleasha (Kiddle) wasn't fit to slide. Monty had to slide almost every day as a result and she stepped up to that challenge brilliantly.
To finish with two golds is a huge positive - it cements what we know about Mica's impressive driving ability and her equipment.
"We know we need to work towards improving the start time for the Worlds but we have plenty of time to close that gap.
"It's been a tough three days of racing for Brad as he wasn't very well in the lead up to the races and has had to play catch up since. Two fourth place finishes in the 2-man event show that his driving is progressing and a fourth and second in the 4-man backs up our belief that he's improving all the time.
"For Lamin and his crew to finish the week with successive medals is a big boost to their confidence as well. Lamin's making progress with both his sleds and he can really hold his own when we hit high speeds. 
"All the crews are really starting to gel even though it's so early in the season and that's another good vibe to take with us to Lake Placid."
Rounds 5 and 6 of the NAC take place in Lake Placid in New York State from November 30, with women's and 2-man races scheduled for Friday and Saturday and the 4-man for Sunday and Monday.