Thomas on the right track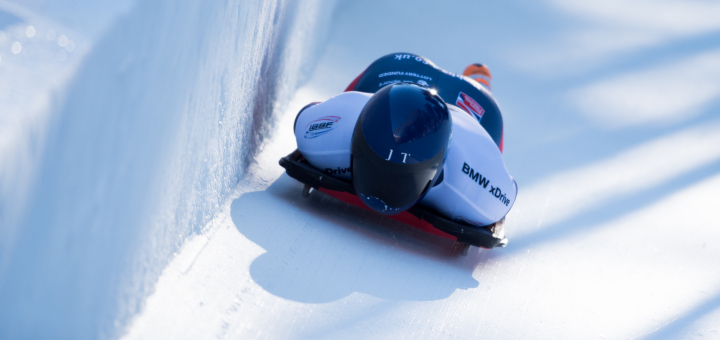 Jack Thomas says a best ever World Cup performance on Friday in St Moritz shows he's heading in the right direction as the main event of the season grows ever closer.
Thomas, who is hoping to make the British Skeleton team for the World Championships in Whistler in March, finished 14th in Switzerland - his top World Cup result in 18 races since his circuit debut in February 2016.
That success came on the back of having equalled his previous best of 15th in Igls the race before and he's confident he can keep on getting better as the long journey to the next Winter Olympics in Beijing continues.
"I know that top tens are just around the corner for me," said Thomas, who was bang on that mark at halfway in Moritz.  I'm just focusing on the processes and the results will follow.
"I've got a lot to take from Friday's result: coming away from a special place like St Moritz with a World Cup PB is a good feeling, but I'm always hungry for more. I was gutted to drop a few spots on the second run but I made mistakes that cost me as it was super close racing .
Taking small steps forward is important and I feel like I'm definitely doing that right now. Igls was an improvement from Altenberg, Winterberg and Sigulda and Moritz was better than all of them.
"While I want to be in the top 10 sooner rather than later, I'd much rather be going the way I'm going rather than slipping back down the field the further we get into the season."
Jack Thomas was 10th at halfway in Moritz & finished with a PB
Thomas missed out on an Olympic spot in South Korea last year but he insists he won't allow that disappointment to impact on his hopes of making the next games in 2022.
"I was obviously gutted to miss out on the Olympics," added Thomas, a former sprinter who joined British Skeleton in 2011.
"It was pretty tough to take at the time: it'd been my sole focus for the past four years so not to get in the team was a massive disappointment.
"I wasn't sure whether I should go to watch the Games but I'm glad I did. My family had already bought tickets but there was no pressure for me to go. I wasn't sure if I wanted to be in PyeongChang if I wasn't competing but seeing Jerry, Dom, Laura and Lizzy do so well was an amazing experience and then Sally (his fiancee) and I got to do some sightseeing after and that was just what I needed.
There was a short period of time when I wasn't sure if I'd want to carry on after missing PyeongChang but I'm in a very different place now. I made up my mind pretty quickly that I wanted to keep going to Beijing but I promised myself I wouldn't make getting there my only aim.
"I know that the best way for me to get to Beijing is to focus on what will help me get there – that's the day-to-day stuff in the gym and on the push track and then race by race, season by season."
That approach has been paying dividends when it comes to improved start times for Thomas, who was the sixth fastest starter in Run 1 and the seventh quickest in Run 2 in St Moritz.
And he's not alone in the British team in that regard, with Marcus Wyatt joint second and fifth fastest off the top in Moritz and Jerry Rice equal fourth and sixth best at the start in the same race.
"Push wise, us three Brits are flying. All three of us were in the top six in St Moritz and that's great to see. We are pushing with each other in training and working together constantly.
The team are working great together and the confidence here is high.
"Considering I slightly tore my calf a couple of weeks ago, I'm happy with my starts. The team have been great getting me back to fitness.
"We've now got a couple of weeks to rest up before our next race and that's something we'll make the most of but I just want to keep building all the way to the World Champs in Whistler now. I'm in a good place and I'm looking forward to what could be an exciting end to the season."