Teenagers do GB proud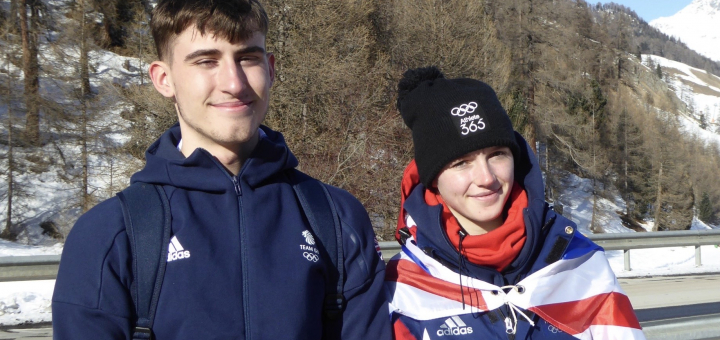 Teenage athletes Charlotte Longden and William Scammell did the country proud on Sunday and Monday when they competed in the monobob events at the Youth Olympic Games in Switzerland.
Longden, a pupil from Marlborough College, and Scammell, a student at St Augustine's Catholic College in Trowbridge, both finished 12th in the sport's showpiece event for under 18s.
A former national level swimmer, as well as a competitive netballer and hockey player, Longden clocked a combined time of 2 minutes 30.20 seconds on Sunday as she missed out on a place in the top ten by just 13 hundredths of a second.
The 17-year-old loved the experience of representing her country on the big stage and insists her ambition is now to follow 2012 Youth Olympic silver medallist, Mica McNeill, all the way to a senior Olympic Winter Games, having also fallen in love with the sport itself.
"For me this is just the start. I loved it," said Longden, who first competed for the BBSA just 11 months ago. 
I loved this experience and just want to do more.
"I was happy with how my runs went. The track was quite fast on the day so, obviously, that changes thinking times. I could notice improvements on my second run from my first run so that's all I can really ask for."
The women's event was won by Romania's Georgeta Popescu, with Slovakia's Viktoria Cernanska taking silver and Germany's Celine Harmes bronze.
Lausanne was the Games' host city but the monobob was held in St Moritz
Scammell, a former footballer turned athlete and now bobsledder, competed 24 hours after Longden on the same world famous St Moritz track.
The 17-year-old, who, like Longden, also competes for Team Bath Athletics, recorded a two-run time of 2 minutes 28.46 seconds to follow his team-mate into 12th place at the finish.
Scammell's start times were the ninth quickest in Run 1 and the eighth fastest in Run 2 as he showed his future potential.
"I feel so proud of how I've done," said Scammell.
To finish close to the top 10 in the world is unbelievable.
"I think I've proved that, even though I can't train as much (as some of the other competitors) I'm up there with some of the best."
Robert Andrei Nica made it double gold for Romania, with Alexander Czudaj of Germany winning silver and Liechenstein's Sanzo Quentin bronze.