Tasker to miss Pyeongchang Games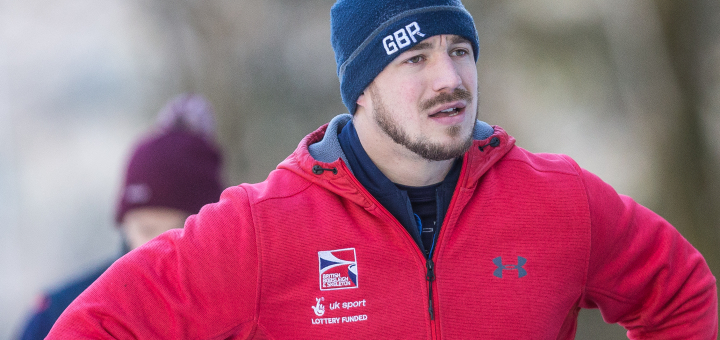 British bobsledder Bruce Tasker will miss the upcoming Olympic Winter Games due to health reasons.
The 30-year-old, who has been a mainstay of the GB squad since 2010, suffered a minor stroke on January 4th.
While Tasker is expected to make a full recovery and has targeted a return to top-level sport later in the year, he will not compete at next month's Games in Pyeongchang, South Korea.
Having been receiving scheduled treatment for groin and hip injuries at home in the UK while his team-mates were competing in Altenberg, Germany last week, Tasker was taken to Wexham Park Hospital last Thursday after experiencing dizziness and nausea.
Tasker was subsequently transferred to the Stroke Unit at High Wycombe Hospital on Saturday.
He returned home on Sunday and will have further medical assessments over the coming days.
"I'm gutted not to be able to conclude the four-year cycle by going to the Olympics but I'm very grateful that I'm still fit and healthy," said Tasker, who was part of the GB 4-man team that is line for a potential retrospective bronze medal from the last Games in Sochi in 2014.
"I'm still sore but, otherwise, I feel fine. While I'm not training, I'm already resuming normal life and the dog hasn't been missing out on her walks!
I'm set to make a 100 per cent recovery and I already feel as though I'm most of the way there.
"I've been looked after incredibly well by everybody and I'd like to thank my partner Kat and her father (both trained doctors), in particular, for their support. The same goes to all the medical staff at Wexham and High Wycombe hospitals who looked after me - they were absolutely fantastic, as was Dr. George Bownes, (Chief Medical Officer for the British Bobsleigh & Skeleton Association) who has ensured I have received the best care and advice possible since my discharge from hospital.
"To me, this was a completely freak occurrence. I was unlucky to be in this situation, but I'm lucky to have come out of it unscathed."
Bruce Tasker (r) has competed at six World Championships and a Winter Olympics
While medical advice will mean that Tasker won't compete in Pyeongchang, he still hopes to continue his GB career next season.
"I have been strongly advised that I don't compete again this season but the initial prognosis is that I should be able to resume training with the team in a couple of months.
"In the meantime, I'll still be cheering the team on from my sofa!"
"We are obviously bitterly disappointed for Bruce that he will not be able to fulfil his ambition of competing at his second Olympic Winter Games next month, especially given the dedication, commitment and excellence he has shown throughout the Olympic cycle, but his health is of paramount importance," said GB Bobsleigh Performance Director, Chris Price.
"The last few days have been worrying for all who know and care for Bruce but we are naturally delighted that he is on course to make a full recovery. We will now ensure Bruce and his family have all the necessary support in place to aid that process."
"Everyone at the British Bobsleigh & Skeleton Association wishes Bruce a full and speedy recovery and we will do all we can to help him on that path," said BBSA Chairman, Christopher Rodrigues.
"As well as being a superb athlete and ambassador for the sport, Bruce is a tremendous competitor and I am sure he will tackle his rehabilitation with the same attitude and application that has made him such an important part of the GB Bobsleigh team."
"We are desperately sorry for Bruce to lose his chance of becoming a two-time Olympian so close to the PyeongChang 2018 Games," said Team GB Chef de Mission, Mike Hay.
"Bruce is an outstanding person and athlete with proven leadership skills and was a hugely valued and popular member of Team GB in Sochi.
"The team has had to overcome adversity already this season and I have no doubt that all of the athletes and their support team have the character and talent to perform at their best in PyeongChang and do Bruce proud.
"We wish him the very best with his recovery and look forward to seeing him back competing next season."