Tasker and Fearon start strongly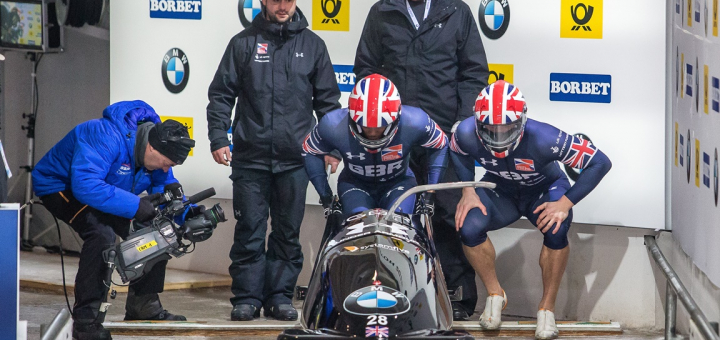 Great Britain's Bruce Tasker and Joel Fearon are eighth at the halfway stage of the 2-man bobsleigh competition at the World Championships after a fine first two runs in Konigssee.
Tasker and Fearon are just five hundredths of a second off sixth spot and within striking distance of a medal ahead of Sunday's final two runs at the showpiece event of the year.
The British pair clocked 49.64 to sit 11th after the first run, with the margins between sleds four-12 just a tenth of a second after a mile of racing. Fellow Brits Brad Hall and Sam Blanchet sit 23rd.
Tasker and Fearon jumped three spots after a time of 49.84 in Run 2 to ensure they remain very much in the mix, 12 months after they recorded an historic fourth-place finish in Igls in what was GB's best 2-man World Championship result for 50 years.
"It's similar to what happened last year," said Fearon. "We moved up the leaderboard at the Olympics in Sochi in the 4-man and in Igls in the 2-man in 2016. We prefer to be the hunters so we're happy with how the day has gone."
"We knew that, with a start draw of 16 and on a warm day like this, the track was going to degrade so the first run was arguably the most important to get ourselves into the mix," added Tasker, for whom last year's Worlds were his first as a pilot.
"We then managed to pick up a few spots in Run 2 so I'm very happy with how it went. We initially lost a place but then we gained a few more and that's how it's going to be all weekend - chopping and changing all the time.
Konigssee is quite a technical track and there's a lot of places where you can lose a lot of time. Because it's such a short track, the time difference between the sleds is tiny so any little mistake you make is going to cost you.
"We now need to come out all guns blazing tomorrow. With a four-run race, there's still a lot of work to be done. It's a solid start, but that's all it is."
Hall was 24th after Run 1, with a solid drive hampered by the worst of the track conditions having started 33rd of the 36 sleds in the competition.
He and Blanchet - who is in his first season as a bobsleigh athlete having transferred from Rugby Sevens - then climbed a place after their second run as they backed up a time of 50.04 with 50.11 - much less of a time difference between the two runs than the vast majority of the sleds in the field.
Runs 3 and 4 take place on Sunday from 9.30am GMT.
World Championships (Konigssee, Germany). 2-man Bobsleigh (Runs 1 &2 of 4): 1 F Friedrich (GER) 1 min 38.60s (49.15 & 49.45); 2 J Kripps (CAN) 1:39.12 (49.44 & 49.68); 3 J Lochner (GER) 1:39.23 (49.51 & 49.72); 8 B Tasker (GB) 1:39.48 (49.64 & 49.84); 23 B Hall (GB) 1:40.15 (50.04 & 50.11)