Super Saturday for young skeleton stars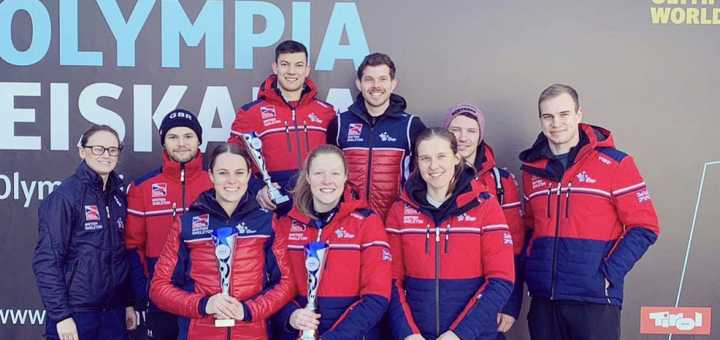 The next generation of British skeleton sliders gave the team a weekend to remember as they produced a stellar set of results in Igls on Saturday.
The squad of six out in Austria featured five athletes in their first season of racing as they look to follow in the footsteps of Lizzy Yarnold, Laura Deas, Dom Parsons, Amy Williams, Shelley Rudman and Alex Coomber by eventually turning their impressive potential into an Olympic medal.
Amelia Coltman once again led the way on Saturday as she won her second gold medal and her fourth in total in her first five races on the international circuit.
Matt Weston then won his maiden medal with a superb silver in Saturday's men's race and the other four members of the team all took top ten spots, with Hannah Stevenson fifth, Benji Fulker and Rachel Hanagan eighth and Laurence Bostock equal ninth on the same day.  
Coltman finished fifth in the first of the weekend's back-to-back races on Friday and then returned to the top of the leaderboard with a superb showing 24 hours later.
The 23-year-old from Melton Mowbray was quickest in both heats on Saturday as she clocked a combined time of 1 minute 49.25 seconds to finish 0.2 seconds ahead of Italy's Alessia Crippa. 
Coltman, who has a silver and bronze medal to her name as well as her brace of golds, now leads the overall Europa Cup standings by 77 points with three races of the season remaining.  
"It didn't sink in straight away that I'd actually won the race as I really didn't expect to get gold in a really tough field," said Coltman, who joined the British Skeleton programme in the summer of 2017 but only made her racing debut in December. 
There were a number of girls with World Cup and ICC (Intercontinental Cup) experience and it was a big field with 26 sliders altogether.
"I made some mistakes on Friday when I finished in fifth place so I was really pleased that I was able to put down two clean and consistent runs on Saturday. 
"My dream start to my competitive career has continued and it's a great way to begin 2020!"
Amelia (top row, c) and Hannah both made the wider podium on Saturday
Weston's silver medal came just moments after Coltman won gold as the former weightlifter made the podium for the first time in his fledgling career.
Weston was 15th, 19th and 21st in his opening three races prior to Christmas and then 11th in Igls on Friday but he produced an outstanding effort to take silver on Saturday. The 22-year-old from Kent was just 14 hundredths of a second behind race winner Amedeo Bagnis from Italy in a huge field of 38 sliders from all across the world.
Having been fifth fastest in Run 1, Weston recorded the quickest time of the day in Run 2 when he became the only athlete to break the 53 second barrier with a run of 52.96 for a total time of 1 minute 46.64 seconds.
Matt Weston won his first medal at the weekend 
"I'm really happy with my results in Igls. It feels like I'm starting 2020 with a bang," added Weston, who also has an international background in taekwondo. 
And I'm ecstatic with my first podium result - it's a special feeling. It was great to put down the fastest run of the day, too, in the second heat. 
"That's a great feeling as, to be honest, I had a few disappointing results earlier on in the season.
"I'm now looking forward to trying to build on this success for the remaining races."
The next racing opportunity for Weston, Coltman and co comes in Altenberg, Germany later on this month.
The team are sitting out the single race in Sigulda, Latvia this coming weekend but will be back in action for the back-to-back races on Friday, January 24th and Saturday, January 25th that bring the EC season to a close.  
Europa Cup race results
Fri 10 Jan
Women's Skeleton: Coltman 5th; Stevenson 8th; Hanagan 13th
Men's Skeleton: Weston 11th; Fulker 15th; Bostock 16th
Sat 11 Jan
Women's Skeleton: Coltman 1st; Stevenson 5th; Hanagan 8th
Men's Skeleton: Weston 2nd; Fulker 8th; Bostock =9th