Stunning start continues on Saturday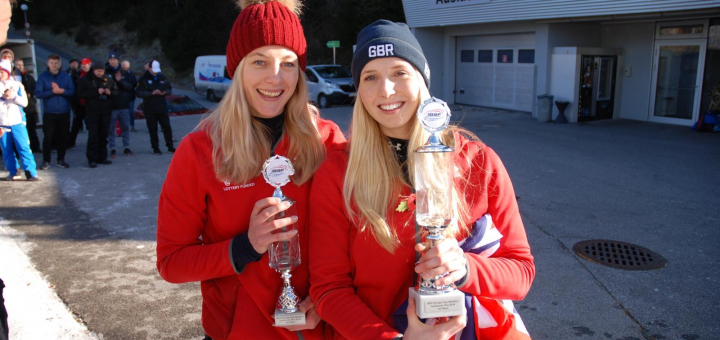 A remarkable start to the season for British Skeleton continued on Saturday as they added two more medals to their tally.
Having won seven medals in six Intercontinental Cup (ICC) and Europa Cup (EC) races on Thursday and Friday, the team made it nine from eight thanks to a gold and silver in the final two races of a enthralling few days' action in Austria.
Maddy Smith backed up Friday's gold medal with another EC winning performance as she showed just why she was selected to attend the recent Olympic Winter Games as part of Team GB's Futures Programme for athletes tipped to make an impression in Beijing in four years' time.
The 23-year-old former swimmer and sprint hurdler was quickest in all four of her runs over her two days' of racing in Igls, Innsbruck, winning both races by at least a second.
Smith's closest rival in Race 2 was team-mate Kim Murray as the 30-year-old from the Isle of Wight made up for just missing the podium on Friday with a fine silver on Saturday.
"Winning double gold in my first international races of the season is just fantastic!" said Smith, who also won back-to-back golds on the North American Cup circuit in January 2017.
"It's a great way to start the racing season and I'm so excited to see what the rest of the season brings.
It's been a tough summer with injuries and with having ankle surgery, but the hard work has paid off - standing on the top of the podium today makes it all worth it.
"I'm very proud of the whole team this week. We have had some awesome results so now we've got to keep the momentum going."
"As a team, we've had a fantastic week, and I'm very happy I've been able to contribute to that success," said Murray, who is set to make her World Cup debut in Latvia next month.
"I'm really pleased with today's result. After a fourth yesterday, I was confident I could produce a better result today so to actually deliver on that is very positive.
"I'm looking forward to moving on to Winterberg and then making my World Cup debut in Silgulda in the coming weeks."
In the second men's EC race of the weekend, Great Britain's top placed athlete was Bolton's Jack Thomas as he followed Friday's silver medal with a fifth-place finish second time out. Jerry Rice placed 12th and Stefan Squire 14th on Saturday, with Hannah Stevenson and Philippa Wellington seventh and 13th respectively in the women's race.
British Skeleton finished the trip to Igls with a total of four gold medals and five silvers as they topped the medal table - just as they did at the sport's showpiece event in South Korea nine months ago.
Marcus Wyatt came close to matching Smith with gold and silver on the ICC circuit, with Craig Thompson the other gold medallist for GB. Olympic bronze medallist Laura Deas won a brace of ICC silvers before Smith, Murray and Thomas completed the impressive tally in EC competition.
The squad now head to Winterberg in Germany for more ICC and EC action on Friday and Saturday of next week, before the World Cup season begins in Sigulda, Latvia on the second weekend in December.
British Skeleton medalists in Igls:
Maddy Smith - EC gold x 2
Marcus Wyatt - ICC gold and silver
Craig Thompson - ICC gold
Laura Deas - ICC silver x 2
Kim Murray - EC silver
Jack Thomas - EC silver