Strong start in Men's Skeleton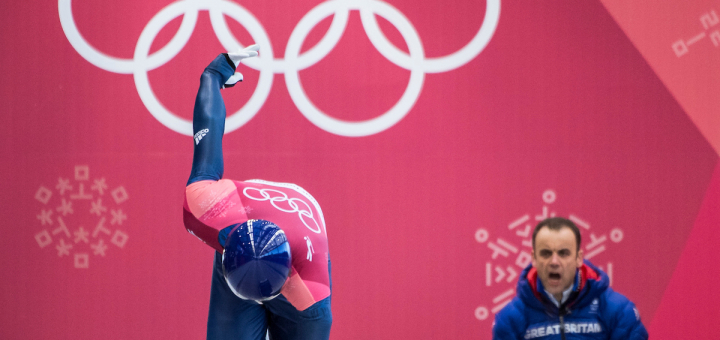 Dom Parsons and Jerry Rice enjoyed a strong start to the Men's Skeleton at the Olympic Winter Games on Thursday morning as they reached the halfway mark in fourth and 12th positions respectively.
Parsons sits just three hundredths of a second off a bronze medal with two of the four runs complete, while Rice is only eight hundredths outside a first-ever elite level top 10 finish.
Home favourite Sungbin Yun leads by a substantial 0.74 seconds but second placed Nikita Tregubov is currently only 0.17 seconds ahead of Parsons.
Multiple World Champion Martins Dukurs occupies the bronze medal position in a combined time of 1 minute 41.23 seconds, with Parsons on the brink of the podium in 1:41.26 thanks to run times of 50.85 and 50.41 seconds.
Parsons sat joint fifth after his first run but was third quickest in Run 2 as he knocked more than four tenths of a second off his opening effort.
Rice clocked 51.06 seconds in Run 1 and 51.15 in Run 2 for a combined time of 1:42.21, seven hundredths behind Olympic bronze medalist Matt Antoine in 11th, eight hundredths from Alexander Gassner in 10th and only a further two hundredths from Christopher Grotheer in ninth.
"It's a very positive start for us," said Olympic Team Leader, Andi Schmid. "We've put a solid platform in place to build on tomorrow. It's only the halfway mark but we're in a good place.
"Dom is very close to the medals and that's very encouraging. His second run was outstanding. He made a few minor mistakes in his first run but he is looking good so far and I'm really pleased with how he performed.
"It's also an encouraging start for Jerry, to be so close to the top 10 at his first Olympics.
It's a big boost for the whole team. We've made sure we haven't been distracted by anything away from sliding. We've worked incredibly hard for the last four years and we're in a good place.
"We won't be getting carried away, though. There's still two more runs to come and we know that we will need to produce again tomorrow."
Dom Parsons is in the medal mix overnight - photo by Andy J Ryan
Parsons, who was joint fourth in the penultimate World Cup race of the season in St Moritz last month, had impressed in official Olympic training and he took that form into competition as only Yun and Martins Dukurs bettered his second run time.
The 30-year-old admitted to making a few small errors first time around but he is content with how things stand heading into Day 2.
"I overdrove a couple of bits on the first run and went a bit offline but the second run was much tidier," said Parsons.
"I'm still a bit disappointed because my start was not quite where I wanted it to be but I closed in on my rivals after that second run and hopefully I can keep reeling them in.
A place on the podium is what I've been working on for the last four years. Let's not get ahead of ourselves too much, though - I'll just focus on the next two runs.
"I think blocking thoughts of a medal out is a bit counter-productive. I'll just make sure I've done all the work I need to do before I try to switch off and use something to distract me, like watching a TV show or reading a book."
The British pair enjoyed outstanding support in Pyeongchang, with only the two South Korean sliders, Yun and Jisoo Kim, benefiting from bigger backing at the Olympic Sliding Centre in Alpensia.
And the supporters were treated to much more favourable conditions than previously experienced in Pyeongchang as the sun shone throughout the session and the temperature reached as high as minus one degrees Celsius - a far cry from the lows of minus 20 that had punctuated the official and unofficial training runs.
"Most of my family have come out here to support me and it was great to see them all in the stands," added Rice. "I think they've been enjoying themselves from the day they got here and I'm loving having their support.
I've got a bit more to give on the start but I'm really pleased overall.
"I was struggling a little in training but I've put down two solid runs. It's going to be consistency that wins out in the end so if I can put together two good runs tomorrow, I'll be very happy."
Runs 3 and 4 take place tomorrow morning from 9.30am local time and 00.30 GMT.
The Women's race also begins tomorrow, with Laura Deas and Lizzy Yarnold going for GB at 8.20pm in Korea and 11.20am in the UK.