Strong start for Micas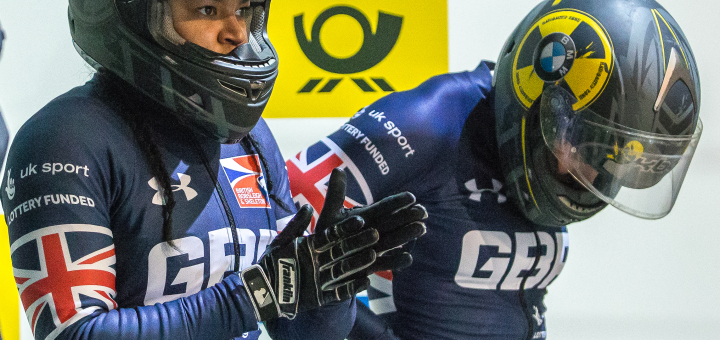 Great Britain's Mica McNeill and Mica Moore opened their World Cup campaign with an eighth-place finish in Lake Placid on Thursday evening.
The British pair clocked a time of 1 minute 55.26 seconds in New York State in the first of eight races prior to the 2018 Olympic Winter Games in Pyeongchang.
The result saw McNeill come close to equalling her best-ever World Cup finish of joint seventh as she drove consistently well over both runs to record the eighth-best time on both occasions.
McNeill and Moore's times of 57.50 and 57.76 seconds saw them finish 27 hundredths of a second outside the top six and 0.66 seconds off a bronze medal.
Canada's reigning Olympic Champion, Kaillie Humphries, took gold with Melissa Lotholz, with America's Elana Meyers Taylor and Lauren Gibbs securing silver ahead of German World Cup rookie Stephanie Schneider and Lisa Marie Buckwitz.
"That was a fantastic performance from Mica and Mica and a great way to start the season," said GB Bobsleigh Performance Director, Chris Price.
"We were looking for a top 10 finish as that's important when it comes to ranking spots for the Games and they were comfortably inside that. The coaches are certainly very happy with the performance and the result.
"They were very consistent at the start with 5.64 and 5.65 push times and Mica was equally consistent throughout with her driving.
It's Mica's best-ever start to a World Cup season and it gives her and Mica a very good platform to kick on from for the rest of the year.
"I know they both have a very positive relationship with Lee (Head Coach, Lee Johnston) and it's good to see their hard work pay off here after a strong set of training results as well."
In the first of two lots of 2-man races in Lake Placid after unseasonably warm weather led to the cancellation of Friday's scheduled 4-man race, Brad Hall and Toby Olubi finished 19th, with Bruce Tasker and Joel Fearon in 26th.
Germany's Nico Walther and Christian Poser took top spot as the United States claimed silver and bronze through Nick Cunningham and Olympic sprinter Ryan Bailey and Codie Bascue and Carlos Valdes.
Hall and Olubi clocked an overall time of 1 minutes 52.9 seconds following start times of 5.06 and 5.07 - the sixth and eighth fastest of each run.
Both male crews will push again tomorrow at 6pm, with the teams staying as they were for today's races.