Sochi crew receive medals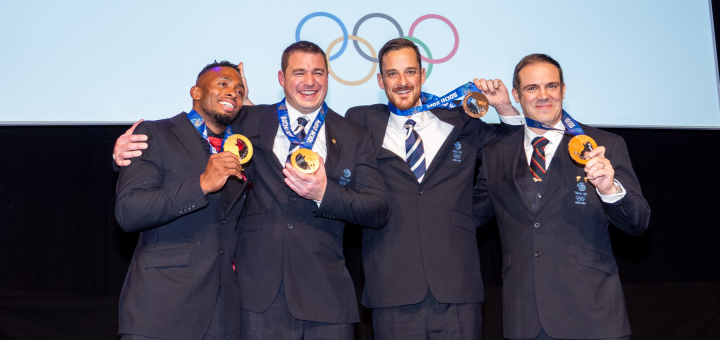 Great Britain's 4-man bobsleigh crew from the Sochi Olympic Winter Games in 2014 finally received their bronze medals in London last night.
Nearly six years after finishing fifth on the sport's biggest stage, John Jackson, Stu Benson, Bruce Tasker and Joel Fearon were presented with what should have been theirs on a podium in Russia at the Team GB Ball in Old Billingsgate.
It was an emotional night for the crew and their families in front of a packed audience of fellow Olympians and dignitaries, including fellow BBSA Olympic medalists Amy Williams and Lizzy Yarnold.
Jackson, Benson, Tasker and Fearon initially finished fifth in Sochi, 0.11 seconds from a medal, but the subsequent disqualification of the race winning Russian sled and another who finished in fourth, led to their medal moment finally coming to fruition back on home soil.
"There's a lot of emotion involved," said Jackson, who retired from the sport in 2016 before confirmation of the Russian team's doping offences.
"I'm quite an emotional bloke when you strip everything away and I had to give a speech, but ultimately we deserve it and we've enjoyed it. 
It may not have been the Olympic moment but it's our moment.
"All our kids get to see us with our medals which wouldn't have happened back then so, looking at it with a glass half full, I'd prefer it that way."
"It was wonderful to see the team presented with what is rightfully theirs last night," said BBSA Chair, Joanna Poulton.
They have waited so long to be recognized in this manner and we are delighted that they all enjoyed their moment on stage in London.
"We are all immensely proud of their achievement, just as they should be."
To watch the moment the team were presented with their medals, click here.