Smith seeks Igls repeat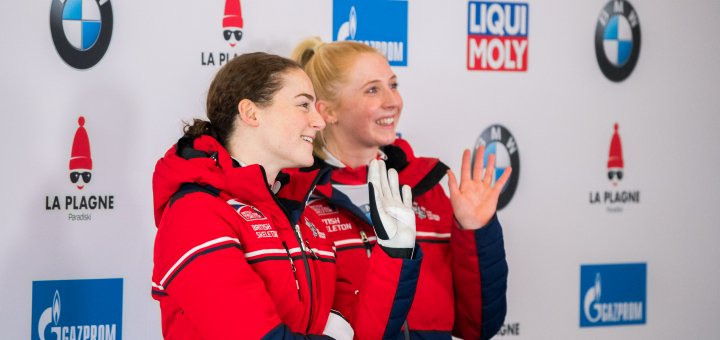 Madelaine Smith believes that a return to one of her favourite tracks could provide the ideal opportunity for her kick to on from last week's career best performance on the skeleton World Cup circuit.
Smith finished eighth in La Plagne last Friday as she equalled her previous top-level best from almost exactly a year ago.
That eighth-place effort in January 2019 came at Igls - the track where Smith and her British team mates are getting set to compete this week - and the former sprint hurdler is determined to make the most of her return to Innsbruck.
"I'm excited to be back in Igls - I've loved this place from day one," said Smith, who also won back-to-back gold medals in the Europa Cup at the famous Austrian venue in November 2018.
It brings back some really good memories for me, and it helps that it is so beautiful too!
"The track is very different from La Plagne: it requires a fast powerful start yet subtlety and finesse down the track. 
"I have had some of my best results here, with two golds on the EC circuit and eighth last year on the World Cup, so it would be fantastic to keep the momentum from last week moving forward."
Madelaine Smith won two EC trophies in Igls last season
Smith now has five top ten finishes in 14 starts on the World Cup circuit since her debut in November 2017 and she says her next goal is to stay in that mix every single time she races.
"I would love to be consistently up in the top 10 week in, week out," added Smith. 
"Of course, so does everyone. The field is extremely strong so it's not easy, but that is where I want to be. 
Focusing on the job at hand, learning and experimenting during training, and then ultimately putting it all together on race day is the aim.
"We have a great GB supporters club out here this week, including Marcus' family and my number one fans! It's great to have such fantastic support at home and out here in Igls, so let's see what Friday brings."
Smith, who turns 25 on Sunday, lines up alongside Laura Deas and Kim Murray in Igls at 1pm on Friday after they finished equal 11th and 18th respectively in La Plagne.
Marcus Wyatt and Craig Thompson go for GB in the men's race earlier in the day, with Wyatt looking to make it three top ten finishes in five World Cup races this season to build on his current world ranking of ninth.
Race Schedule
Fri 17 Jan
Men's Skeleton 9am GMT
Women's Skeleton 1pm
You can watch all the World Cup action via the International Bobsleigh & Skeleton Federation website and on their YouTube channel.
We'll provide updates from the rest of the races via our own social media channels and we'll post a round up of the results once they've come in.