Smith seeks continuous improvement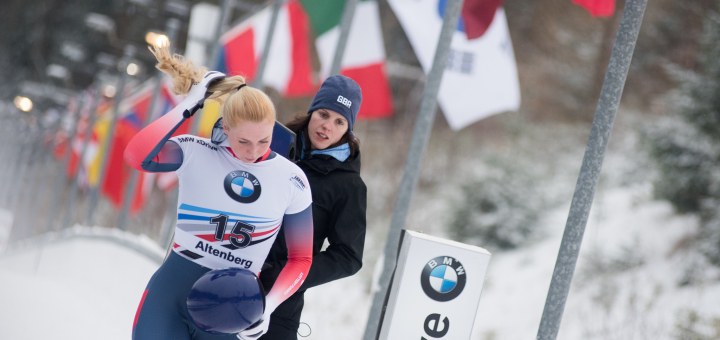 Madelaine Smith believes she belongs with the best but insists she's focussed on making continuous improvements as she gets set for back-to-back races in Calgary this week.
Smith stepped up to the World Cup circuit partway through last season and is now in her first full campaign among the sport's top sliders.
The 24-year-old won back-to-back gold Europa Cup (EC) medals at the start of the season and has since finished 10th in Sigulda, ninth in St Moritz and eighth in Igls in World Cup competition to sit as the top-placed British female in the world rankings.
And with just one weekend of World Cup racing left before potential selection for next month's World Championships, Smith is determined to end the season in a similarly successfully manner to that in which she started it.
"The season so far has been pretty successful," said Smith, who applied to join British Skeleton on the recommendation of Team GB aerial skier, Lloyd Wallace, in 2014.
"I started off extremely well with two gold medals on the EC circuit in Igls and then a bronze in Winterberg. To start so strongly was really exciting and I was really looking forward to pushing myself going up on to the World Cup circuit.
"It's the first year that I've competed on one full circuit. In my first year of competition I did a mix of Europa Cup and the Intercontinental Cup (ICC) and then last year I was on ICC and then got the opportunity to move up on to the World Cup.
"This is my first year with no movement - apart from the extra EC races at the start of the year because the World Cup didn't start until late - and having the full eight races on one circuit has been a big help. It's given me a good opportunity to build a strong relationship with Eric (Head Coach Eric Bernotas) and it's allowed me to test myself against the best athletes out there. They're the sliders I want to be competing with.
I feel I've proved to myself and to the programme that I do deserve to be on the World Cup. In three out of the six World Cup races so far I've been in the top 10, so that's a massive improvement from last year.
"I've made other significant improvements from last year, too: my confidence is building and I'm not getting crazy amounts of nerves before racing, and that's part of racing at such a high level. If these improvements keep happening race after race, this is definitely where I belong for the next few years."
Madelaine Smith won back-to-back Europa Cup gold medals in November 
The most recent race in the United States last Friday didn't bring the result Smith was seeking as she finished 15th in Lake Placid but she is planning on kicking on again in Calgary.
The ability to bounce back from disappointment is a key part of the process of becoming one of the world's best and Smith says she intends to do just that this Friday and Sunday.
"Last week was an extremely tough week for me: I didn't come away with the result I would have liked. However, this is exactly what this sport is like: it's not going to be plain sailing, it's not going to be easy," added Smith.
"We learn the most from bad results rather than good ones so I'm taking all the positives away from what I learnt last week.
"This is a new track and a new week, but I've got the same goal, which is to perform to my best.
For me, it's all about taking small steps each week. It's about being better than the week before and learning from the best.
"We know that selections for the World Championships in Whistler will be made after this week is finished. I've put myself in the best possible situation and, hopefully, I'll get selected. If I do, I'll approach it in the same way as any other competition.
"It would be the highest level of competition I've competed at and doing four runs in a race isn't something I've done on the international stage yet. I've done it in our selection races but it would be slightly different here.
"If I do get to go, the objectives will be the same: process, process, process and, hopefully, the result will come. I want to be up there with the best and that's always what I'm working towards."
Smith has competed in all six World Cup races so far this season
Having now established herself as a World Cup regular, the former sprint hurdler intends to keep on taking those small steps she hopes will help her fulfil her ultimate aim of making it to the next Winter Olympics in 2022. 
Smith travelled to the last Olympics in South Korea as part of Team GB's Ambition programme for potential future stars and she says that seeing Lizzy Yarnold, Laura Deas and Dom Parsons win an historic hat-trick of medals re-affirmed her desire to be part of a successful skeleton squad in Beijing next time around.
"It's exactly a year ago that Marcus (team-mate Marcus Wyatt) and I were at the Olympics watching Lizzy, Laura, Dom and Jerry (Rice) compete. It's incredible to think how quickly the time goes. The results for all four of them were incredible.
"Going to PyeongChang definitely highlighted the importance of what I'm working towards. It's now three years to go 'til Beijing and that's the ultimate aim and ultimate focus."