Skeleton squads selected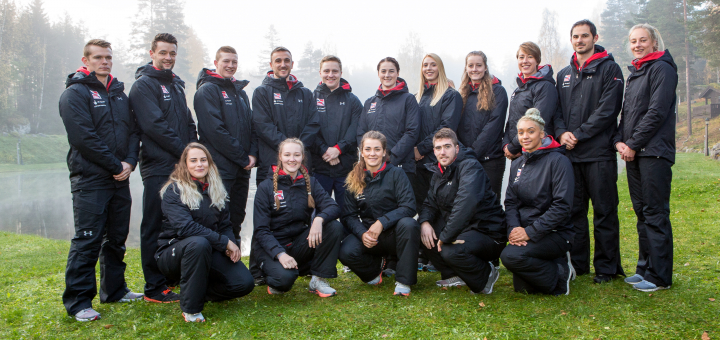 Olympic Champion Lizzy Yarnold heads a six-strong team of skeleton sliders selected for the opening World Cup races of the season in North America.
With the Winter Olympics now less than four months away, Yarnold will start the build up to the defence of her title on the top circuit, where she will be joined in the women's squad by World Cup medalist Laura Deas and Youth Olympic Champion, Ashleigh Pittaway.
Dom Parsons, who is currently ranked No10 in the world, leads the men's challenge, with Jerry Rice and Jack Thomas also included on the back of their debut World Championships last season.
Maddy Smith, Kim Murray and Marcus Wyatt also performed strongly in the weekend's selection races in Lillehammer and could be involved in World Cup action this winter if they meet their performance targets on the sport's second circuit, the Intercontinental Cup (ICC).
"The selection races were really competitive all round and that's exactly what we want to see in an Olympic season," said GB Skeleton's Head of Performance, Danny Holdcroft.
The strength in depth in the programme is something we're really proud of and we have genuine medal contenders on all the international circuits. 
"That bodes well, not only for Pyeongchang but also for Beijing 2022, especially given that we've also got another nine new sliders out in Norway right now after they joined the programme this summer.
"Lizzy, Laura and Dom have been in the mix for medals for a number of years now, while Ashleigh has already been on the podium in ICC and EC (Europa Cup) races despite being just 17 years old. Jack and Jerry both finished in the top 20 at this year's World Championships and have shown they have the potential to push on this season.
Having the Olympics on the horizon is a massive incentive for the squad and you can already see how much it means to them all. It's the pinnacle of our sport and I'm pleased to say that we are in a really good place as we get ever closer to the Games.
"Not being selected for the opening World Cup races doesn't mean that the Olympic dream is over, though. Selection for the first part of the season was based on our eligibility criteria as well as ranking so there could well be changes to the makeup of the squad during the year. We always assess selection at the mid-way part of the season and the likes of Kim, Maddy and Marcus all know there is plenty to play for before Pyeongchang."
The World Cup season kicks off on November 9th in Lake Placid in New York State, before moving west across America to Park City and then on to Whistler in Canada.
After returning from North America in the last week of November, the team begin their European leg of the season with World Cup 4 in Winterberg on December 9th. They race once more before Christmas in Innsbruck, before heading to Altenberg, St Moritz and Konigssee prior to February's Winter Olympics in Pyeongchang.
The ICC and EC seasons also begin early next month, with the ICC getting things underway in Whistler on November 4th.
GB Skeleton World Cup squad
Men: Dom Parsons, Jerry Rice, Jack Thomas
Women: Laura Deas, Ashleigh Pittaway, Lizzy Yarnold
Intercontinental Cup squad
Men: Marcus Wyatt
Women: Kim Murray, Maddy Smith
Europa Cup squad
Men: Stefan Squire, Craig Thompson
Women: Brogan Crowley, Ellie Furneaux, Philippa Brett, Hannah Stevenson
NB Kenny Howard did not complete the weekend's selection races and did not earn a national ranking as a result. His involvement this season will therefore be clarified at a later date.