Skeleton seek success on 3 circuits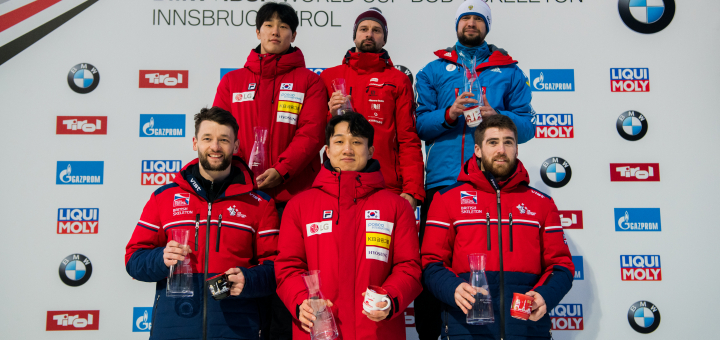 The British Skeleton team will look to build on last week's historic World Cup showing in Igls when the squad competes on three separate circuits over the next three days.
Marcus Wyatt and Craig Thompson secured the programme's best combined men's World Cup result for 12 years last Friday when they finished fourth and sixth on the fifth stop of the sport's top tour in Austria. 
That marked personal bests for both Thompson and Wyatt and was the first time two British men had been on the wider podium since then soon-to-be World Champion Kristan Bromley and 2006 and 2010 Olympian Adam Pengilly achieved that feat in Altenberg in 2008. 
Kim Murray then followed up with a fine eighth-place and a surprise track record in the women's race as she moved up an incredible eight spots between her first and second runs.
Craig Thompson hit a World Cup PB last week
This week's schedule is a much busier one across the globe as British athletes compete in Europa Cup (EC) and Intercontinental Cup (ICC) races, as well as on the World Cup circuit.
It also sees a number of changes to the athletes competing on those circuits, with the team's traditional mid-season review offering an opportunity for sliders to step up to new challenges or pick up extra experience on different tracks and gain solid ranking points in the process.
Wyatt, Madelaine Smith and Olympic bronze medallist Laura Deas will all compete in the sixth race of the World Cup season in Konigssee on Friday, with Murray and Thompson moving to the ICC circuit in Lake Placid to join up with Ashleigh Pittaway and Stefan Squire. 
Murray, Pittaway, Squire and Thompson race on Thursday and Friday in the United States in the fifth and sixth races of the ICC season - the second tier circuit in terms of IBSF standings and a skeleton only competition. 
British athletes sat out last week's single EC race in Sigulda but are back in action for a double header in Altenberg as Amelia Coltman looks to secure the overall title after winning medals in four of her five races so far this season.
The EC circuit has seen lots of British success so far
Matt Weston will be aiming to build on the silver medal he won last time out in Igls on Jamuary 11th, with Rachel Hanagan, Hannah Stevenson, Laurence Bostock and Benji Fulker also involved out in Germany after impressive top ten performances in Austria. 
PyeongChang Olympian Jerry Rice won't be involved in the coming weeks as he remains in the UK ahead of the arrival of his first child.
"It's a really busy time for the team right now but it's also an exciting one given what happened last week on the World Cup and what could happen this week on the EC circuit, in particular," said the team's Performance Director, Natalie Dunman.
To see two British men on the podium in Igls was a big boost, especially given that it hadn't happened for so long.
"Marcus was sixth in the world rankings last year so this marks another step forward for him as he looks to put himself in medal contention ahead of the Beijing Olympics in two years' time.
"For Craig, it was a huge leap forward from his previous best of 16th and it should give him the confidence that he can compete with the best. The same goes for Kim after she put in a really strong second run in Igls.
"We always look at selection at the halfway point of the season and we did that after the World Cup race in La Plagne in the second week of this month.
We made decisions based on what we feel is the best path for all our athletes and the team as a whole, and the changes we've decided upon come into play this week.
"It doesn't mean that this is how things will look for the rest of the season, though - athletes will have opportunities to step up to new circuits again after this week and the same goes for those who have moved away from the World Cup race this weekend.
"We are obviously determined to produce the best results possible week in, week out, but our ultimate focus is on bringing home more Olympic medals in 2022 and selection opportunities for the rest of the season will reflect that ambition."
Skeleton Race Schedule
All times are GMT
Thurs 23 Jan
ICC Men's & Women's Skeleton 3pm
Fri 24 Jan
EC Men's & Women's Skeleton 9am
WC Women's Skeleton 10.30am
WC Men's Skeleton 2.30pm
ICC Men's & Women's Skeleton 3pm
Sat 25 Jan
EC Men's & Women's Skeleton 9am