Skeleton season starts with ICC top sixes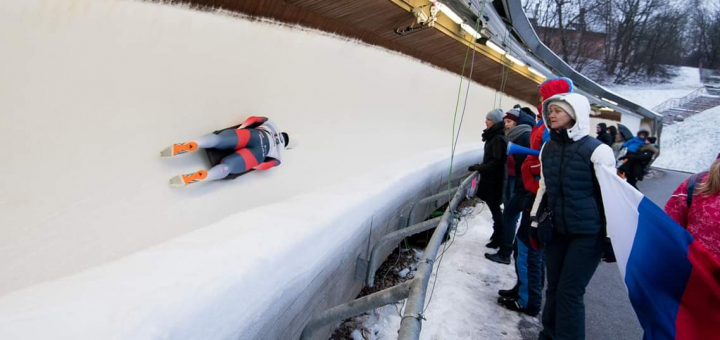 GB Skeleton kicked off the new season with successive top sixes courtesy of Marcus Wyatt's efforts in Intercontinental Cup (ICC) action at the weekend.
Wyatt grabbed back-to-back wider podium places as he finished sixth in each of the opening two races on the sport's second-highest circuit in Whistler.
The 25-year-old from Devon, who already has ICC and North American Cup medals to his name from his first season in skeleton, was in the top three fastest starters in all four runs across the two races and he showed real consistency on one of the world's most difficult tracks.
Fellow Brits Maddy Smith and Kim Murray competed in the women's competition, with Smith 12th and 14th in Race 1 and 2 respectively. Murray, who was making her ICC debut after success on the Europa Cup circuit didn't finish the first race after a crash that prevented her from taking part in the second race on Sunday. She has since been given the all clear from the medical team, however, and will compete next weekend when the ICC circuit moves on to Calgary.
"It was a solid start to the season, especially for Marcus," said GB Skeleton's Head of Performance, Danny Holdcroft.
"His consistency throughout the weekend was a definite positive and his start times gave him a very positive platform to work from. Maddy's start times were also very strong - like Marcus, she was in the top three for all four runs - and, considering she hadn't had much training time at the track having been in Pyeongchang for the International Training Week, it was another solid showing overall.
"Kim had her difficulties on what is a notoriously tough track to slide on your first visit but she's in one piece and I know she's already looking forward to getting back out on the ice in Calgary this week, where she can perform very well."
Marcus Wyatt was 6th, 5th, 4th & 10th in his four runs at the weekend
Murray, Smith and Wyatt are all strong examples of the strength in depth currently within the GB Skeleton squad, something Holdcroft is particularly pleased with.
All three of those athletes could yet make it to the Olympic Winter Games in February of 2018, despite the fact that they are only in their second full season of competition and have the Olympics in Beijing 2022 as their primary focus.
That should act as a massive confidence booster and an extra incentive but Holdcroft insists the key to their success will be focussing on what is needed to keep improving on the road to Beijing, rather than on the results required to get to Pyeongchang.
"The development programme has really stepped up over the last 12 months. There's a real pressure coming through from below the World Cup team now," added Holdcroft, who has been with the programme since 2005 and has therefore seen a number of big names progress through the ranks.
Kim, Maddy and Marcus are all ahead of the game.
"We utilise opportunities to move people up and to test them if we think they're good enough. That's what we did we Maddy and Marcus last year when we dropped them into ICC to see where they were at. Sometimes, when athletes are on a roll and confidence is high and you move them up, they can kick on and get an acceleration in their progress. That's exactly what happened to Lizzy Yarnold in the Sochi cycle.
"All three are chasing World Cup qualification criteria, even though they are still development athletes. To have that chance of stepping up to World Cup competition in an Olympic year is a big thing. However, the challenge for us as a programme is to say, 'yes, that's great and you do need to have your eye on that target but, unless you do the day in, day out stuff right, that's not going to happen'. Proving you have the ability to compete is one thing, but doing it over a sustained period of time is slightly different.
When athletes get on to a new circuit, it's natural to look at what's above you straight away, especially in an Olympic year. But there is no need to rush things or to put too much pressure on themselves: they just need to stay patient and crack on with getting the process right on a regular basis and, off the back of that, the performances and results will come.
"That's the mentality we've had in training over the last few weeks and for the first two races just gone and that's what we want them to remember throughout the season. Their job is to keep their focus and momentum going. They are ahead of the curve and on track for their target of the Beijing Olympics. Pyeongchang is on the radar but Beijing is their bigger prize."
Next up for the ICC team are Races 3 and 4 in Calgary this Sunday and Monday.
There is also the first instalments of World Cup action from this Thursday in Lake Placid, with the Europa Cup competition kicking off in Lillehammer on Saturday.