Skeleton ready for season showpiece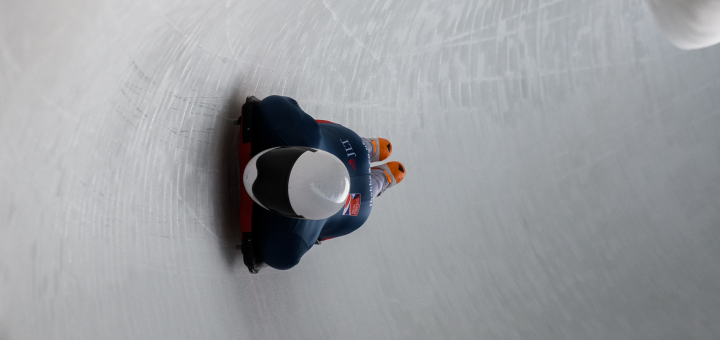 The men's skeleton action at the World Championships gets underway in Altenberg on Thursday as a trio of Brits look for a big finish to the season.
Marcus Wyatt leads our challenge having ended the World Cup campaign eighth in the standings, while Craig Thompson showed he can compete with the very best with his sixth spot in Igls last month, and Matt Weston heads to Germany as the unknown quantity as far as the rest of the globe are concerned.
The season so far has been a mix of highs and lows for the team but their attention has always been on Altenberg and Performance Director Natalie Dunman is excited about what they can achieve on the big stage.
"We've been building up to this week all season so I'm looking forward to seeing what the team can produce in a four-heat race at the World Championships," said Dunman.
Marcus knows he can be in the mix if he performs on Thursday and Friday. He's done it before on the World Cup and there's no reason why he can't do it again here. 
"Craig's shown glimpses of his potential, too, this season and Matt has progressed really quickly in his first season of competition so there's definitely reasons to be confident in what we can achieve."
The key goal remains the next Olympic Winter Games in Beijing 2022, though, and that's where the team's primary focus is and will remain over the next two years.
Half of the current team will be competing at their first global championships, while only Olympic bronze medallist Laura Deas has featured at more than one World Champs.
Weston has been selected after showing he has the potential to make the progress required to break into the top ranks of the sport in his debut season of competition, while Thompson and Kim Murray from the women's team are also making their debuts at the showpiece event of the season.
"This week is part of a longer goal, and that's hitting our peak for Beijing in two years' time," added Dunman.
"This week is a new experience for 50 per cent of the team and only Laura is a 'regular' at this type of event. That lack of familiarity with the World Championships means we have to be realistic with our expectations results wise.
Of course, we are aiming to produce our best performances of the season but viewing this week as a success won't just be based on the results we get.
"It's also about getting our team the right experience to make them better athletes and push them on towards Beijing. If we can do that, we will have taken another big step forward."
The World Champs are part of a wider picture for Wyatt, Weston & co
The first two heats of the men's skeleton are scheduled for 9am GMT on Thursday, with the third and fourth runs taking place at 12pm on Friday.
The women's race begins at 8.30am on Friday and concludes at the same time on Saturday.
World Championships Race Schedule
Thurs 27 Feb
Men's Skeleton 9am (Heat 1 & 2)
Fri 28 Feb
Women's Skeleton 8.30am (Heat 1 & 2)
Men's Skeleton 12pm (Heat 3 & 4)
Sat 29 Feb
Women's Skeleton 8.30am (Heat 3 & 4)
Men's 4-man Bobsleigh 12.30pm (Heat 1 & 2)
Sun 1 March
Skeleton Mixed Team Competition 9am 
Men's 4-man Bobsleigh 12pm (Heat 3 & 4)
You can watch all the World Championship action via the International Bobsleigh & Skeleton Federation website and on their YouTube channel.
We'll provide updates via our own social media channels and we'll post a round up of the results once they've come in.