Skeleton all set for Sigulda opener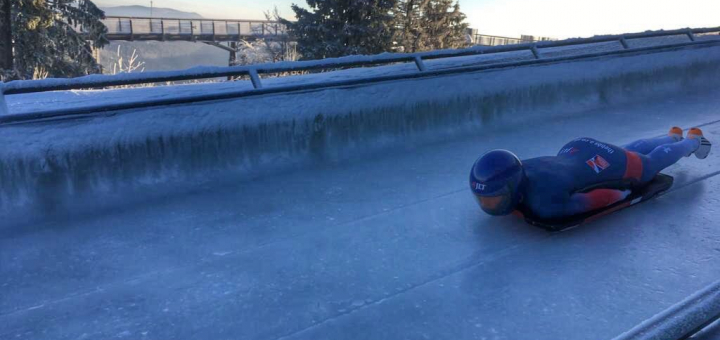 The new World Cup campaign kicks off in Sigulda, Latvia this weekend as British Skeleton look to build on their stunning start to the season.
After ending last season on an almighty high with an historic hat-trick at the Olympic Winter Games in South Korea, the team have added 15 more medals in 14 races on the Intercontinental Cup (ICC) and Europa Cup (EC) so far this term.
Kim Murray, Maddy Smith, Jack Thomas and Marcus Wyatt have all stood on the podium already this winter, while Jerry Rice has been easing his way back into things after a top ten finish at his first Olympics in February. 
Those five athletes will all slide for GB in Sigulda, with the men's race taking place on Saturday and the women's event scheduled for Sunday.
Olympic bronze medallist Laura Deas will miss the competition opener, however, as she undergoes British Skeleton's National Teams' injury protocol. Having won back-to-back ICC golds in Winterberg the week before last, Deas will have to wait until the World Cup circuit returns to the same venue in Week 2 to get her top level season started.
"Laura is recovering well but we are following our medical guidance and protocol and it was going to be a tight call for her to be ready for this weekend," said British Skeleton's Head of Performance, Danny Holdcroft.
Athlete welfare always comes first so we made the call for Laura to focus on getting ready for Race 2 instead of rushing back for Sunday's competition.
"We've still got a really exciting squad for Sigulda, though, and we're excited to see how they perform. It's been a great start to the season and, although the World Cup is a step up in quality, the team are feeling really good about things."
Between them, Kim Murray & Maddy Smith have won all 3 EC races this season 
Smith has a brace of gold medals to her name so far this season having won successive EC races in Igls last month and Wyatt has picked up one gold, two silver and one bronze medal in his four ICC outings in Austria and Germany after just missing out on a Olympic spot nine months ago.
Murray starts her debut World Cup campaign in high spirits after a maiden EC race win in Winterberg a week-and-a-half ago, while Thomas is looking to build on his EC silver from Igls having been passed fit to slide following an elbow injury for which he headed home for treatment.
"Jack, Kim, Maddy and Marcus are chomping at the bit - that's the best way to describe it," added Holdcroft.
They can't wait to get going again this weekend. They've been immensely impressive in their ICC and EC races and now they want to test themselves against the world's best.
"Jerry had a superb Olympics and now he's looking to kick on; Jack had the disappointment of missing out on PyeongChang but he has unfinished business and is raring to go again; Kim has earned her chance to step up and has started the season in really consistent fashion; Marcus made massive strides last year and was unfortunate to miss out on the Games; and Maddy has showed that the form she demonstrated last season is definitely not a flash in the pan.
"Sigulda will be a difficult, unique challenge as it's not a track that has been on the skeleton circuit very often. We want to see the athletes perform to their capabilities here but we also know that this is just the start of our journey to the next Olympics in Beijing in 2022. 
"This is another line in the sand moment and a chance to steal a march on the other nations. Just because this is a post-Olympic season and we've got another three-and-a-half years until the next Olympics, that doesn't mean we should take our foot off the gas."
Saturday, December 8th @ 7.30am GMT
Men's Skeleton: Jerry Rice, Jack Thomas, Marcus Wyatt
Sunday, December 9th @ 7.30am GMT
Women's Skeleton: Kim Murray, Maddy Smith