Schmid steps down as PD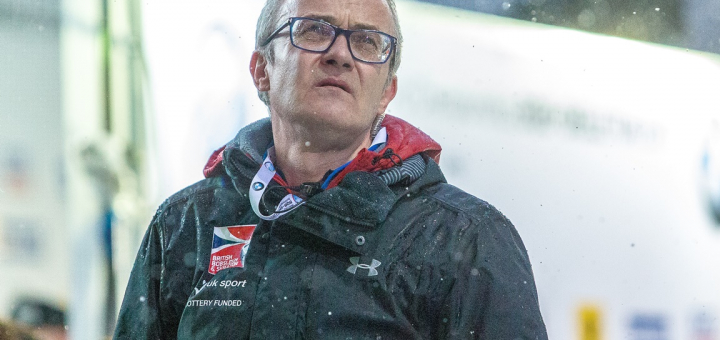 Andi Schmid is stepping down from his role as Performance Director (PD) at British Skeleton after an incredible 17-year journey.
Schmid joined the programme in 2001 and has been at the heart of the team's historic success over the past five Olympic cycles.
A former World Champion slider for his native Austria, Schmid led Great Britain to a hat-trick of medals at February's Olympic Winter Games in South Korea as Lizzy Yarnold won Gold and Laura Deas and Dom Parsons Bronze in PyeongChang.
He previously tasted Olympic success with British athletes at the 2002, 2006, 2010 and 2014 Olympics and has guided the nation to hundreds of medals across the international circuits during spells as PD, coach and advisor.
"Andi's contribution to Skeleton in this country has been nothing short of outstanding. He has been at the heart of a hugely successful - and remarkable - journey and we have so much to thank him for," said British Bobsleigh & Skeleton Association Chairman, Christopher Rodrigues.
"He has developed and nurtured a winning culture like nothing ever seen before in British winter sport, with his incredible success at Olympic level just the tip of the iceberg. To have played a key part in so many Olympic medals, plus hundreds more across the international circuit, is simply staggering, especially for a nation without an ice track.
And it is not just on the ice where Andi has had such a huge impact: his honesty, integrity and empathy have continually shone through in his relationships with both his staff and his athletes and he leaves an indelible mark on the programme.
"Given his international standing and his efforts in securing Olympic re-integration in 2002, it is not an exaggeration to say that the sport of Skeleton as a whole would be in a very different - and much poorer - place without Andi's contribution.
"His are big shoes to fill for the next Performance Director but he has put all the necessary foundations in place for the squad to keep moving forward and I am confident the team will continue to do him proud."
Andi Schmid led his team to three medals in South Korea
Schmid, who will remain on board in an advisory capacity for the foreseeable future, says he has been 'honoured' to serve his adopted country for so long and 'proud' to have played his part in making Great Britain the most successful skeleton nation in Olympic history.
"It has been a real privilege to serve British Skeleton and its people but now is the right time for me to step back and let someone else drive the team forward to the next Olympics in Beijing," said Schmid.
"I have had so many highs here and have so many happy memories of the people and the performances. Winning medals for the country at the Winter Olympics are obviously stand out moments but I'm equally proud of the team spirit and the culture we have built here. People genuinely look at the programme as an example of how to generate success and the whole team here should be very proud of that.
I was given the opportunity to help build up something special from scratch 17 years ago but the things the team have achieved have gone beyond my hopes and expectations.
"We have won medals at every level, seen clean sweeps of the podium in international races and earnt the respect of all the other nations on the circuit and I'm pleased I was able to play my part in that.
"I will be forever grateful to Simon Timson, who was PD when I was asked to join the programme in 2001. The invitation came as a surprise but it was a huge honour. Simon showed a great deal of faith in me on the back of my career as an athlete and from my time in Austria. There was next to no budget and we had to build everything up right from the very bottom but, although we had next to no funds, we had the freedom to shape the programme the way we wanted to. We now have a programme that has a history of success and is home to some exceptional sliders.
It has been a real pleasure to have worked with so many talented and hard-working athletes and staff who have all shared the same dream of making British Skeleton so successful. I have always felt fully supported during my time with the team and I hope they have felt the same way about working with me.
"Finally, I want to thank everyone who has made my time with British Skeleton so memorable. There are simply too many to mention here but special thanks must go to the people at UK Sport, the English Institute of Sport and the British Olympic Association, plus all our other partners, who have supported me throughout the journey. The biggest thanks of all has to go to the athletes and staff, though: the passion and commitment of these people is truly amazing and I see no reason why they cannot build on their success for years to come."
"On behalf of everyone at UK Sport I would like to congratulate Andi on the incredible job he has done as Performance Director for the British Skeleton Team," added UK Sport Director of Performance, Chelsea Warr.
"Under Andi's leadership, our skeleton athletes, coaches and support staff have achieved unparalleled success on the world stage. This includes winning medals at the last five Winter Olympic Games, including those three podium places at PyeongChang 2018 through the phenomenal performances of Lizzy Yarnold, Laura Deas and Dom Parsons.
"Andi has left a formidable legacy and I am delighted he will be remaining with the British Skeleton programme in an advisory capacity in the interim period to help ensure our Skeleton athletes continue to deliver inspirational medal winning performances."
The British Bobsleigh & Skeleton Association will begin the search for Schmid's successor immediately.