Pyeongchang preview driving Deas on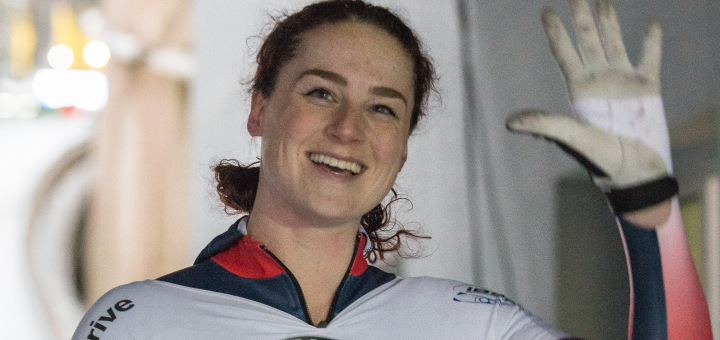 Laura Deas says seeing next year's Olympic venue first hand will drive her on when times get tough over the next 11 months.
Deas and her GB team-mates spent the past three weeks in South Korea, first for international training and then for the final World Cup race of the season.
Now back home in the UK and in her final block of training before the spring break, the process of familiarising herself with a brand new track and the outside factors that accompany competing in a new country and a different timezone will stand her in good stead for what hopefully lies ahead.
"It's been great to get out to Pyeongchang and see the venue and the track ahead of the Olympics. It definitely gave me a real buzz from the moment I got there," said Deas.
"Spending the time on what is a new track is obviously invaluable but it's more than that - it's about getting a feel for the place.
It gives you an idea of what it will be like next year and it's been another reminder to me of just how badly I want to be back here for the Olympics.
"When I'm in the middle of a tough gym or sprints session or when I'm out on the push track in Bath, I'll be able to picture Pyeongchang and I've no doubt that they will spur me on throughout what is such an important summer."
Deas finished equal ninth in Pyeongchang to end the Word Cup campaign in sixth spot overall across eight races.
And while the result on race day wasn't what Deas was looking for, the 28-year-old knows that she remains in touching distance of the ultimate glory.
"I was disappointed with the end result in the race as I know I was capable of finishing higher up. I'd been finishing higher than that in training and I felt like I could challenge for another podium spot, but it wasn't to be," added Deas.
"My second run was a lot quicker than my first so I'm pleased that I was able to improve and finish with a good time. The field is so, so tight, though, and I know that I have to be consistent on every single run if I want to get back to winning races or medals. That's the aim for next season now.
"Finishing sixth in the overall standings shows that I'm not far off where I need to be but I haven't hit the heights that I did last year in terms of winning medals.
This sport is all about small margins, though, and I know that if I can just correct a few minor mistakes I've made, I can beat the best in the world.
"I've been on the wider podium three times in the World Cup this season and only been outside the top 10 once so I feel like I've proved again that I belong with the best. Now I want to make sure I'm beating them again by the time the Olympics come around in February."