Police put hopefuls through their paces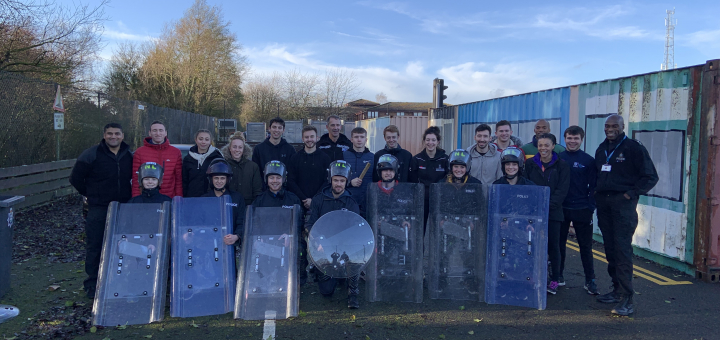 The latest group of British Skeleton hopefuls were put through their paces at Leicestershire Police Headquarters on Wednesday.
A group of 21 athletes currently involved in the Discover Your Gold (DYG) talent identification scheme took part in a series of tests designed to stretch them to their limits and put them under pressure in readiness for the rigours of elite sport.
The day included team-building exercises with the Police Support Unit, with the group dodging 'petrol bombs' and replicating other unique crisis situations with the help of Sergeant Mel Thomas.
The aspiring sliders, who were among 3,000 to apply for the latest UK Sport recruitment campaign, also discussed mindfulness techniques to help them stay focused and maximise their potential as they look to follow in the footsteps of the likes of Olympic medalists Lizzy Yarnold and Laura Deas.
"We wanted to find an opportunity to assess these aspiring athletes and take them out of their normal comfort zone," said Neil McCarthy, Performance Pathway and Talent Manager at British Skeleton.
Skeleton as a sport and the nature of the competition structure is unlike anything these guys would have encountered, so we wanted to see how they react and manage themselves in tough scenarios.
"Given the excellent training of the Police for similar challenging environments, this is a great fit for us. We are really appreciative of the opportunity we have been able to give these aspiring athletes and we look forward to seeing the benefits both short and long term."
The DYG group experienced a range of police training at Leicestershire HQ
"We were more than happy to put them through their paces to see what they're really made of," said Sergeant Mel Thomas of Leicestershire Police.
Skeleton isn't for the faint hearted and so we knew that throwing a few missiles at them, something our officers are trained to deal with, was the perfect test. 
"Being at the top of your game doesn't just mean being in prime fitness, it also requires a healthy and strong mind set in order to achieve the best results."
The partnership with Leicestershire Police formed part of the latest three-day camp for the group, all of whom began their skeleton journey in July of this year.
A further three-day camp follows at the end of January, with selection for a confirmation ice camp in Norway the immediate aim for the Olympic hopefuls.