Pittaway back better than before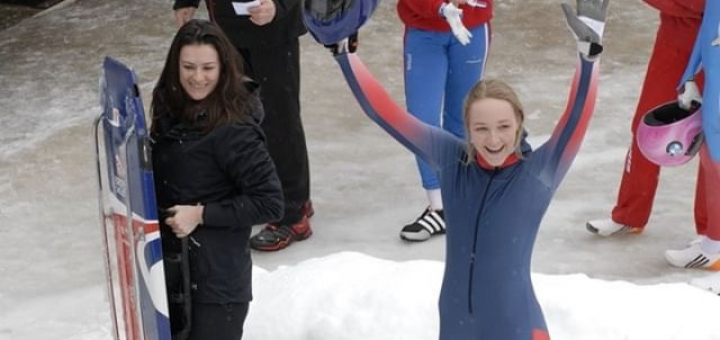 Ashleigh Pittaway returns to World Cup action this Friday with the belief that she is a better slider than when she last competed on skeleton's top circuit.
The 18-year-old's most recent World Cup appearance came in December 2017 when she finished 21st in Winterberg.
In the 14 months that have passed, Pittaway has won six medals in other competitions, finished second overall on the sport's second-highest circuit - the Intercontinental Cup - and won a brilliant bronze in the Junior World Championships just two weeks ago.
She now steps back up to World Cup competition in Lake Placid, joining Laura Deas and Madelaine Smith in the British team for the sixth of this season's eight World Cup races, and she's ready to continue that fine form.
"I definitely see myself as a better slider this year than last year," said Pittaway, who won Youth Olympic Gold in Lillehammer three years ago and is one of a number of talented British athletes hoping to shine at the next full Olympic Winter Games in Beijing in 2022. 
I would say that I've been really consistent this season. I've proved that I can deliver on a regular basis.
"Every time I race, I want to go out and win it, and I've been competitive in every race this season. I might have struggled in training with a few things at times but I've always been on point on race day so far this season.
"I really struggled last year. I didn't have a great season but I've massively upped my game. My start has improved and, when I'm on the start block, I know I have a chance to be competitive. My sliding has never been a big issue but my start needed improvement. As long as I keep working hard in the gym, I think I'll keep getting better.
"A few months ago, I didn't believe 2022 was going to be my goal, I didn't think it was going to be realistic. But then I saw how much I improved and now it's easier to believe.
"My focus is on the World Cup now, though - it's the highest level of competition and the best field so I'm excited to measure myself against the best. It's going to be exciting to see how I've improved compared to last year."
Ashleigh Pittaway has enjoyed a fine season so far
Winning World Championship bronze and ICC silver means Pittaway heads to Placid in high spirits, and not just because of the results themselves.
The Monkton Combe student had to deal with illness last time she was in the States and additional nerves in Konigssee at the junior showpiece but she has taken great confidence from the fact that she's been able to perform week in, week out, whatever has been put in her path pre-race.
"I've had some ups and downs this season but I've come through everything," added Pittaway, whose best World Cup finish to date was 15th on her debut in February 2016.
"I will was ill for three weeks in America but I fought through that and learnt how to deal with that and still be competitive. My start times were down then and I didn't feel 100 per cent but it was a good learning experience and there was a lot to take away from that.
"It was the same at the Junior Worlds: I worked through a lot of issues and I've definitely grown for the experience. I had a lot of nerves so I've been learning how to deal with them. I was also sick before my first run so being able to perform after that was a good experience.
The ICC field has been very competitive this season so I know I've been competing with some very good sliders.
"Anna Fernstaedt can't race anything else this season (she switched allegiance from Germany to the Czech Republic) and there's been a lot of people from the World Cup circuit on it as well because the World Cup season started later.
"Anna was sixth at the Olympics so being able to be competitive with her is a massive achievement and I'm really proud of that. I hope I can continue to be competitive on the World Cup now."
RACE SCHEDULE:
Fri 15 Feb
Women's Skeleton 1.30pm
Women's Bobsleigh 6pm & 8.15pm*
Men's 2-man Bobsleigh 7pm & 9.15pm*
Sat 16 Feb
Men's Skeleton 2pm
Men's 4-man Bobsleigh 6.30pm
*1st run Women's Bobsleigh, 1st run 2-man Bobsleigh; 2nd run Women's Bobsleigh, 2nd run 2-man Bobsleigh
All times are GMT