PDs take confidence from Olympic trip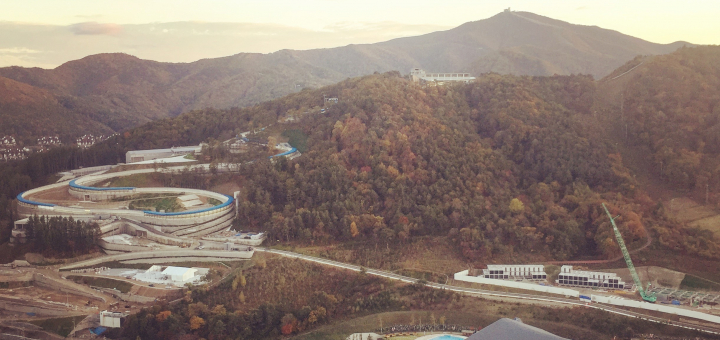 The Performance Directors heading up Britain's Bobsleigh and Skeleton challenge at next year's Winter Olympics are both in high spirits following their latest fact-finding mission out in Pyeongchang.
GB Bobsleigh's new PD, Chris Price, and GB Skeleton's Andi Schmid spent four days in the Far East as part of the British Olympic Association's Team Leaders' recce, with Schmid staying out in South Korea for the final international training period ahead of February's Games.
The attention to detail shown by the BOA and the South Korean organising committee, as well as the enthusiasm displayed by the local people and the impressive state of the sliding venue, has left them feeling confident that their respective teams will be given the best possible platform to make the British people smile in four months' time.
"Everybody is focussed on winning medals and doing the nation proud and the trip has given me great confidence that there are exciting times ahead," said Price, who was on his maiden visit to Pyeongchang.
"The Games isn't just about sliding. It would be easy to think 'we'll turn up, slide and leave', but it's much more than that. It's about the movement of people, movement of equipment, suitability of training facilities and how we optimise where the athletes will be.
The BOA have done a fantastic job of dotting the i's and crossing the t's that will enable Team GB to maximise performance at the Games. That's exactly what I had hoped to see.
"And, while there's still a lot to do, it's all about the little details now and I know I'm in a better place to finalise those having seen the venue first hand."
"It was a case of fine tuning the hard work that had already taken place," added Schmid, who was out in Pyeongchang in March when Lizzy Yarnold finished fourth in the Olympic test event.
"As is always the case with the BOA, it was really well organised and a very positive thing to be a part of. I certainly got a lot out of the trip.
It's critical to get all the logistical plans in place so that the team can come here in February focussing purely on performance.
"There is still a lot to do - there always is at this stage before a Games - but we now know an awful lot, especially having been to the venue already for last season's World Cup and training opportunities. We've got six athletes out with us now for the latest international training period and we're learning more by the day.
"There will of course be minor changes and we know there are plenty of 'what if's' but we are in a really good place."
The BOA trip to Pyeongchang was a valuable experience for Price and Schmid
As well as recognising the importance of pulling together the fine print for the Pyeongchang plans, both men were quick to point out the value of being in the company of other Team GB leaders while out in the Olympic environment.
Being able to share ideas while also reminding themselves that they will be part of a wider collective pulling together for Great Britain was a major boost at a time when it is easy to get caught up in the magnitude of what lies ahead.
"It was really helpful to be able to spend time with the other team leaders. We are all in a similar position and will go through similar things at the Games and we know that we will all support each other with whatever happens," continued Schmid.
"The BOA delegation have so much experience, and that gives me great confidence. The likes of Chef de Mission, Mike Hay, and Rio 2016 Chef de Mission, Mark England, have worked incredibly hard to get us to this stage and that adds to the belief that our athletes will be able to concentrate solely on being the best they can be next year."
"Spending time with the other Olympic leaders was an amazing opportunity. The BOA getting all the team leaders in one place must have been a big challenge but it was a huge success," said Price.
There was a real and instant camaraderie. Everyone got on well and it gave me a sense that, even in difficult times, everyone who will be working for Team GB at the Games will be really supportive.
"The amount of experience in that delegation is massive so the ability to be able to bounce ideas off each other and problem solve in the moment is a real plus."
So what of the venue itself? How was Pyeongchang looking and feeling four months out from the main event? In almost all aspects it received a massive thumbs up from both sports. Yes, there are things that need to be finished and details that need to be finalised but the overall opinion was that the South Koreans will put on a fantastic event.
"We met the local organising committee early on and I was really impressed with the amount of progress they have made and the general plans they have for the Games," added Price. "They seem to be in a really good place at this stage, and that's great to see.
"The venue looks absolutely outstanding. It's being really well managed. All the venues that I saw - whether that be close up or from a distance - look in fantastic condition. The Games will be a great spectacle and I'm excited to see our team get out there and perform."
The track in Pyeongchang has already been used for a World Cup event
"The venue looks really impressive," finished Schmid. "The track manager and his team have done a very good job. The ice needs a little bit of work but they have a very strong team looking after that and I'm confident it will be a very good surface to slide on.
"Being able to build relationships with the other team leaders was important but it was just as crucial to build relationships with the South Korean people - the people who we will work closely with and may need to rely on when it comes to Games time. We made time to do that and I was impressed with their willingness to help us get the most from our time in their country.
"After all, this is what we spend four years working towards. All our planning and preparation and the work that goes into trips like this is so that the athletes can go out there and give their all knowing they are in the best possible place to achieve their dreams. I have no doubt that is what they will be able to do in February."