PB for Mica & Monty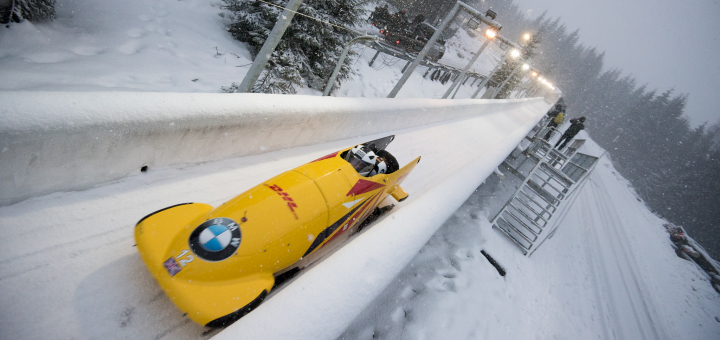 Mica McNeill and Montell Douglas recorded their best-ever World cup result on Saturday afternoon as they finished fourth in Altenberg.
The British pair missed a medal by just 0.04 seconds in Germany but still set a personal best in the first race of the new year.
The official result had the Brits in sixth place at the finish but a problem with the timing system at the top of the track saw them rightfully upgraded to fourth after the clock was adjudged to have been nearly four tenths of a second out of sync.
The result beat McNeill's previous World Cup best of equal fifth, set with Mica Moore in Whistler in November 2017, and that was despite what appeared to be a cup being thrown on to the track during the start of their second run.
McNeill and Douglas were on the brink of history at the halfway stage in the east of Germany after leading a 13-strong field after the first run to raise hopes of a first British female World Cup win for more than 20 years.*
No British women's team had tasted World Cup glory since Michelle Coy-Martin and Cheryl Done in Calgary in the 1997/98 season but a superb drive from McNeill gave her a four hundredths of a second advantage after Run 1.
A medal of any sorts would have been a first female podium since Nicola Minichiello and Gillian Cooke took back-to-back bronze in St Moritz just a week-and-a-half shy of a decade ago (January 15th and 16th 2009), while silver would have matched Minichiello and Cooke's effort from Konigssee earlier that month.
McNeill and Douglas went 0.38 seconds quicker in Run 2 but a number of other sleds also improved second time around to leave the Brits fifth quickest on that run alone.
Their overall time of 1 minute 57.68 was only marginally slower than future hall of famer Elana Meyers Taylor, who took bronze for America, and just 12 hundreds behind Canada's silver medal winning crew led by Christine De Bruine.
Reigning Olympic Champion Mariama Jamanka took gold on home ice to extend her lead at the top of the world rankings after gold and silver in her two previous outings this season.
McNeill sits 10th in the standings having missed the circuit opener in Sigulda before placing seventh in Winterberg.
Prior to the start of the World Cup campaign, McNeill won four successive races on the North American Cup circuit, with Douglas in the back seat for three of those.
The next women's World Cup race takes place in Konigssee next weekend, with that competition doubling up as the European Championships.
In Saturday's 2-man action, Brad Hall and Nick Gleeson finished 15th in Altenberg. Hall and Gleeson improved from 15th quickest in Run 1 to 11th quickest in Run 2 but it wasn't enough to move them up the order.
There were huge positives at the start, though, with only race winner Francesco Friedrich quicker off the top in Run 2 and just Friedrich and Dominik Dvorak faster at the start in Run 1. Those start times of 5.23 and 5.24 seconds bode well for Sunday's 4-man - Hall's favoured event - when Hall and Gleeson will team up with Alan Toward and Ben Simons from 10.30am GMT.
*Nicola Minichiello and Gillian Cooke won the World Championships in 2009 but that is a separate event from the World Cup circuit.