PB for Hall in 2-man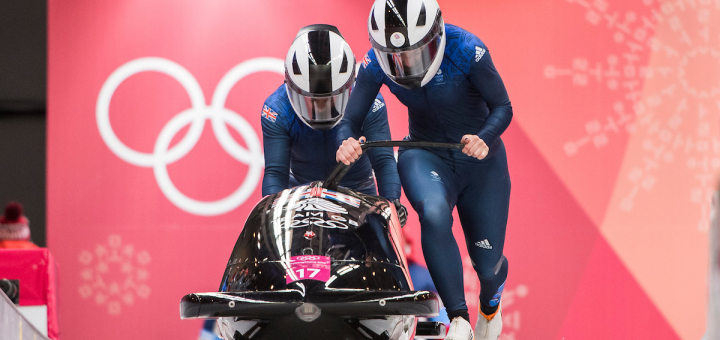 Brad Hall recorded his best-ever top-level 2-man Bobsleigh result on his Olympic debut as he placed 12th with Joel Fearon in Pyeongchang.
Hall and Fearon finished just a tenth of a second outside the top 10, with Hall's previous best effort being 13th on two separate occasions last season and the season before.
The British pair finished 1.48 seconds behind eventual race winners Justin Kripps and Alex Kopacz of Canada and Francesco Friedrich and Thorsten Margis of Germany, with the gold medal shared after the leading crews could not be separated to a hundredth of a second.
The GB crew sat seventh overnight after clocking times of 49.37 and 49.50 seconds before 49.67 and 49.80 showings in Runs 3 and 4 left them 1.43 seconds behind bronze medalists Oskars Melbardis and Janis Strenga of Latvia.
"We were in seventh place yesterday so we dropped a few places tonight but that's still my best performance on the world stage thus far," said Hall, who will pilot one of two British crews in Saturday and Sunday's 4-man race.
We made a couple of mistakes on turn two and that cost us a few spots but, hopefully, if I can bring the same driving as I did yesterday in 2-man to the 4-man, we should be in business.
"Me and Joel were both a little bit disappointed with our start times but we definitely know that's not going to happen in the 4-man. We know our 4-man is fast and we know we can perform well here."
Hall and Fearon finished 12th of 30 2-man sleds
Like Hall, Fearon admitted that he had hoped for a higher finish following the first evening's action but he remains in high spirits ahead of the start of the 4-man competition.
"I'm really proud of Brad: he's come a long way in a short amount of time," added Fearon, who is competing at his second Olympic Winter Games having also shone in Sochi.
"Tonight was a bit of an anti-climax as we had an amazing day yesterday. But it's all building really well for the four-man. We're going to add a couple of extra horses to the sled and see what happens.
"Today was a personal best for the 2-man so if we can do that in the 4-man that would be great."