Parsons to finish doctorate before focussing on Beijing 2022 Olympics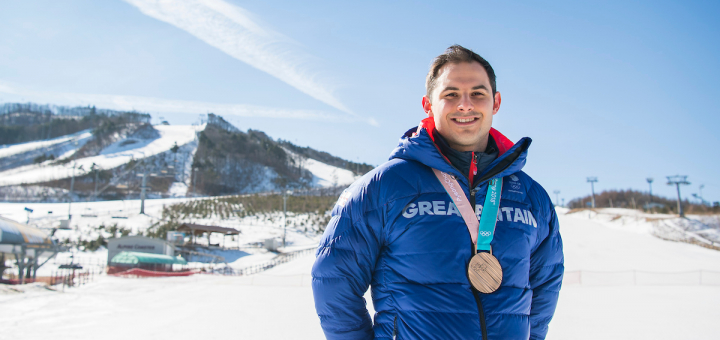 Olympic Bronze medalist Dom Parsons will take a season away from competition to complete his PhD at the University of Bath.
Parsons became Great Britain's first male Olympic skeleton medalist for 70 years when he finished third in PyeongChang seven months ago.
The 30-year-old, who made his international debut back in 2008, will continue to train with the team in Bath but will not compete on the ice in the 2018/19 season.
Instead, he will combine gym and push start training with his doctorate in mechanical engineering, researching combustion in gasoline engines.
Parsons plans to complete his degree by next summer, before returning to competition for the 2019/20 sliding season.
"In a lot of ways my performance in PyeongChang highlighted to me the opportunities to improve the level that I can compete at," said Parsons.
"There is a compromise between my studies and training that is becoming more significant the older I get.
"Using this year to get my PhD finished will open up more opportunities to improve over the three years leading into Beijing 2022 and will allow me to come back to competition more refreshed and ready to attack the following three seasons."
Dom Parsons was Team GB's first medalist in PyeongChang
Parsons has fitted his studies around the sport of skeleton for most of his time with the programme, having previously graduated with a BEng in Mechanical Engineering in 2012.
But, with the next Olympic Winter Games three-and-half years away, both he and the coaching team believe now is the best possible time to devote more of his life to his doctorate, leaving his future free to fully focus on Beijing 2022.
"Dom has combined his studies with his skeleton career for a number of years now and we are fully supportive of his desire to complete his PHD at the earliest opportunity," said British Skeleton's Head of Performance, Danny Holdcroft.
This was a decision that was taken after consultation with the coaching staff and we have worked closely with Dom to put together a programme that will ensure he continues all other aspects of his training bar to being out on the ice competing.
"As a programme we have similar experiences of athletes stepping away from the circuit for a season (Lizzy Yarnold did the same in between her back-to-back Olympic triumphs in 2014 and 2018) and we understand how the situation needs to be managed to make it work for Dom and the programme.
"Dom remains very much part of the team and he still has a real passion to go to the next Olympics in Beijing 2022 and to improve on his brilliant Bronze medal from this year's Games. We are confident he can do both those things once he has completed his studies.
"Dom's decision also gives other athletes an opportunity to step up. We have some real strength in depth within the programme and there will now be a number of sliders determined to show that they can be just as successful."
The World Cup Skeleton season begins in Sigulda, Latvia on the weekend of December 7th.