Olympic stars lead GB challenge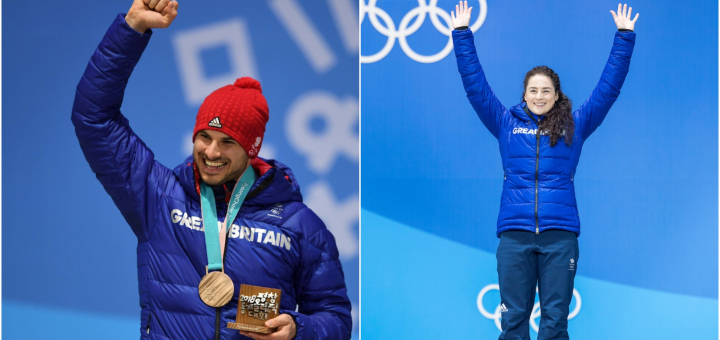 Olympic bronze medalists Laura Deas and Dom Parsons will lead the British challenge for more skeleton success this season.
Deas and Parsons tasted Olympic glory within 24 hours of each other in 2018 and both now have their sights set on similar achievements on the sport's top circuit in 2019 and 2020.
Parsons returns to the team after taking a year out from competition to complete his doctorate in mechanical engineering at the University of Bath, meaning the World Cup opener in Lake Placid on December 8th will be his first international race since he became the country's first male Olympic medallist in 70 years in South Korea.
The 32-year-old is joined in the men's World Cup team by Marcus Wyatt, who was ranked sixth in the world last season, and Craig Thompson, who made his World Cup debut in Placid in February.
Wyatt was only outside the top ten once in eight World cup races last season, recording a career high fifth in Calgary in what was his first full season on the premier circuit.
Madelaine Smith and Kim Murray join Deas in the women's World Cup team having both competed at this level last time out, finishing the campaign ranked 11th and 18th in the world respectively.
"We're excited by the prospect of what we can achieve on the World Cup circuit this season," said Natalie Dunman, Performance Director for the British Skeleton team after the squad returned from their selection races in Norway at the end of last week.
Having Dom back is an obvious boost as he's now one of the world's most experienced sliders. He knows what it takes to challenge for medals and he's determined to be back in that position as soon as possible.
"Like Dom, Laura is known as one of the best sliders on the circuit. She medalled in Calgary at the end of last season so she'll be keen to build on that when we get going again.
"Marcus showed he can compete with the very best last season despite being pretty new to that level of competition. He was ultra consistent and regularly battling it out for top six spots so the next step is to see if he can challenge for a podium place in what is a really quality field.
Marcus Wyatt was 12th at February's World Championships in Whistler
"There's lots to be positive about for Maddy, Kim and Craig as well: Maddy was in the top ten in half her races last season and Kim had a best of seventh, while Craig showed he can make the step up after winning overall silver on the circuit below the World Cup. All three have a real shot of going to the next Olympic Games in Beijing and being really competitive if they get there.
We really want to show people that we're not just a team who shines once every four years, though: our success at Olympic level has been well documented but we've also got a history of winning medals on all the other circuits and we want that to continue.
The World cup season was due to start in Park City at the end of November but that race has been switched to fellow American venue Lake Placid meaning the New York State track will host back-to-back races on December 7th and 8th and then again on December 13th.
After a break for the Christmas period, the circuit switches to Europe, with six further races scheduled for Germany (x 2), France, Austria, Switzerland and Latvia before the season's showpiece, the World Championships, take place back in Germany in late February.
The British Skeleton team will also compete on the Intercontinental Cup (ICC) and Europa Cup (EC) circuits this season, with 2018 Olympian Jerry Rice among those taking part in ICC action and up to eight athletes in line for their international debuts at EC level after two years of training without competing.
Positions will be reassessed in mid-January, meaning there could be movement between the circuits for the second half of the season.
Smith and Wyatt will also compete in the first two ICC races of the season in Sochi, Russia on November 23rd and 24th as a means of gaining extra ice time prior to the beginning of the World Cup season a fortnight later.
British Skeleton World Cup team
Men: Dom Parsons, Craig Thompson, Marcus Wyatt
Women: Laura Deas, Kim Murray, Madelaine Smith
British Skeleton ICC team
Men: Jerry Rice, Stefan Squire
Women: Ashleigh Pittaway, Brogan Crowley
British Skeleton EC team
Men: Laurence Bostock, Alex Corby, Benji Fulker, Jacob Salisbury, Matt Weston
Women: Amelia Coltman, Rachel Hanagan, Hannah Stevenson