Olympic experience for future stars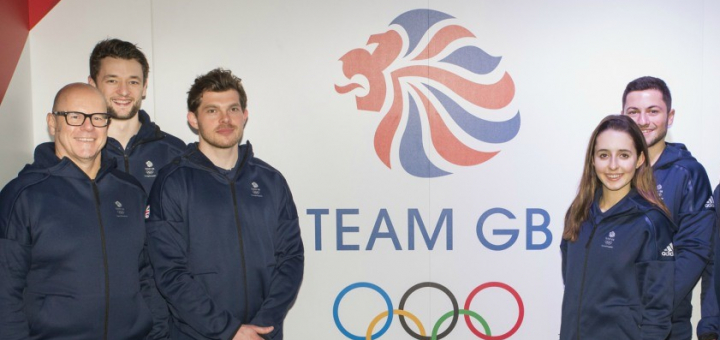 A trio of British Skeleton squad members who have their sights set on Beijing 2022 will head to Pyeongchang next month as part of the British Olympic Association's (BOA) Ambition Programme.
Athletes Maddy Smith and Marcus Wyatt and coach James Howard will join four others from figure skating out in South Korea as they get their first taste of an Olympic environment.
Smith and Wyatt were both in the running for Olympic selection this time around after impressing on the World Cup and Intercontinental Cup circuits this season, while Howard spent five years as an athlete with British Skeleton before taking up a coaching role last summer.
The unique inside experience of an Olympic Winter Games is designed to ensure they are one step ahead of the competition should they be selected to represent the country on the greatest stage of all in China in four years' time.
"British skeleton's mission is to deliver Olympic medal winning performances and the ambition of our athletes is to make it to an Olympic Winter Games and perform to the best of their abilities," said Danny Holdcroft, Head of Performance at British Skeleton.
Part of that journey to an Olympic Games is about ensuring that an athlete is not overawed by the Olympic environment once they get there.
"The BOA Ambition Programme is a programme we have used since 2012 and it's one that we see a lot of value in. It offers aspiring Olympic athletes the chance to gain a glimpse of this unique environment. That not only helps fuel their fire to get selected in the first place but it also helps them prepare for an Olympic environment if they do make it to the Games.
"We are thankful to the BOA for running this programme and inviting us to be part of it."
Marcus Wyatt and Maddy Smith joined British Skeleton in 2014
Howard, Smith and Wyatt will support their British Skeleton team mates Laura Deas, Dom Parsons, Jerry Rice and Lizzy Yarnold in Korea, with Yarnold proof that the programme can be hugely effective for the next generation of skeleton stars.
Yarnold won Olympic Gold in Sochi in 2014, having been part of the Ambition Programme for the Summer Games in London 2012.
In fact, all four of Team GB's medals in Sochi were contributed to by Ambition Programme athletes and coaches, with Yarnold's success coming alongside snowboarder Jenny Jones and athletes from each of the medal-winning curling teams. And that impressive strike rate continued at Rio 2016, where Ambition Programme alumni athletes won 33 medals in Team GB's best-ever Games on foreign soil.
"The Ambition Programme is a great opportunity to see what is required at a Games," added Howard.
From a coaching perspective, it will be good to see what is expected at an event and what I can learn to develop my own coaching.
"I've always enjoyed the analytical side of skeleton and the problem-solving element and get a huge amount from being able to help other athletes progress."
The trio will familiarise themselves with the Games time environment in the sliding centre are of Alpensia before taking in some action across the following five days, with their visit also set to include medal ceremonies and visits to the two Olympic Villages, in the mountains and on the coast.
The programme, which was launched for Beijing 2008, will work in conjunction with global Olympic partner Toyota for the first time. Toyota's recent campaign, 'Start Your Impossible', celebrates athletes' commitment to facing challenges in their career, and making it to the pinnacle of the winter sporting world is certainly a tough challenge for athletes and coaches alike.
"We're really excited to be partnering with the Ambition Programme. The best way to face any challenge that might seem impossible is to take that first step and through this initiative we hope to help the next generation of athletes take their first steps towards the greatest challenge of all, competing at an Olympic Games," said Andrew Cullis, Toyota GB Marketing Director.
Ambition Programme participants:
James Howard, Skeleton: Coach
Maddy Smith, Skeleton: Athlete
Marcus Wyatt, Skeleton: Athlete
Nick Russell, Figure Skating: Judge
Graham Newberry, Figure Skating: Athlete
Lilah Fear, Figure Skating: Athlete
Lewis Gibson: Figure Skating Athlete