Olympic bronze for Sochi 4-man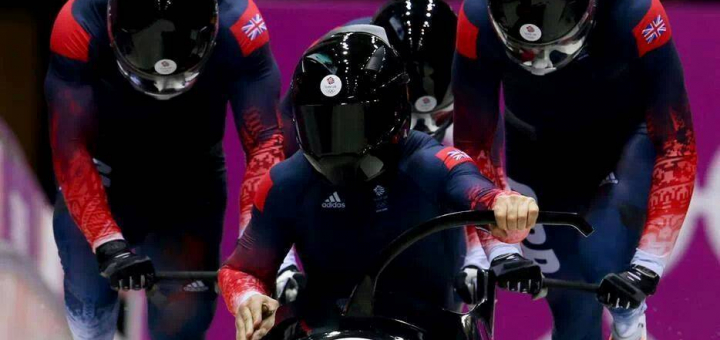 British Bobsleigh are celebrating Olympic success after John Jackson's 4-man crew were upgraded to the bronze medal position at Sochi 2014.
Jackson, Stu Benson, Bruce Tasker and Joel Fearon originally finished fifth in Russia five years ago, just 11 hundredths of a second outside the medal spots at the sport's showpiece event.
The subsequent disqualification of the home nation's gold medal winning and fourth-place sleds for doping offences means the GB crew are now finally recognised as Olympic medalists following confirmation from the International Olympic Committee.
"I'm over the moon to be able to say I'm an Olympic bronze medallist. Although it's been coming for so long, it's not really sunk in yet," said Jackson, who also competed at the 2010 Games in Vancouver but retired from the sport in 2016.
Although we thought this would be coming at some point, it was still emotional to have it confirmed today. As soon as I found out, I messaged my wife Paula saying 'get the champagne in the fridge - we're going to have a glass tonight!'
"I could hear in (Team GB's Chef de Mission) Mike Hay's voice on the phone just how emotional he was and it's great to know that everyone involved at that time is so happy for the team. We had a really close bond as a team: we started as four individuals but we all had the mindset that we wanted to do the best for the team and, when we stood on that start block, we fought as a unit.
"When I came into the sport, I told the coaches I was going to win an Olympic medal and it's great to know that we've done that."
Stu Benson, Bruce Tasker, Joel Fearon and John Jackson are Olympic medalists
Russian athletes from the Sochi Games were originally investigated following publication of the McLaren Report in 2016 with athletes from both sleds disqualified in November 2017. The decision was then upheld by the Court of Arbitration for Sport, setting the path towards today's decision.
The British Olympic Association will now work with the athletes to decide when and where to award the bronze medals to the athletes and the BBSA will provide our full support.
Gary Anderson, who was British Bobsleigh's Performance Director at the time is relieved to know that his athletes will now get the public recognition for their hard work and dedication during the Olympic cycle and for their excellence on the track in Sochi.
"I'm delighted for the athletes: I know what they went through to achieve this result. It is a truly outstanding achievement," said Anderson.
In 2010, we set the target to medal in Sochi. We meticulously planned for it and we can now say we achieved that. 
"We had some very good people involved in suppporting the programme and I am delighted for them also. Now I just want the athletes now to be acknowledged."
Those sentiments were echoed by BBSA Chairman, Christopher Rodrigues, who was quick to praise Jackson and his crew for the way they have dealt with what has been a prolonged process since news of the doping allegations first surfaced.
"Everyone here is delighted for John, Stu, Bruce and Joel - they have done the country proud, not only on the ice but also in the way they have handled the long-standing situation regarding their medal re-allocation. This has been a long time coming but it is fantastic that they are now rightfully recognised as Olympic bronze medalists," said Rodrigues.
"A special mention should also go to Gary Anderson and his staff for all their hard work and dedication in helping the team achieve such a significant success in Sochi. 
"Winning an Olympic medal is a truly incredible achievement and we now hope the team will get the chance to celebrate their success accordingly." 
Pics by Alex Livesy, Getty images