Micas finish 16th for GB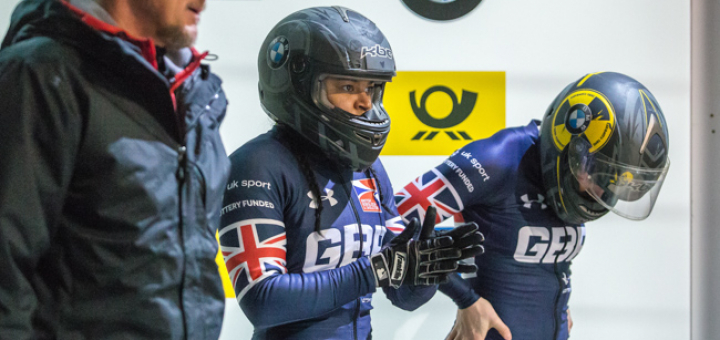 The women's bobsleigh was the first event to finish at the World Championships this weekend as Mica McNeill and Mica Moore placed 16th for Great Britain.
The pair were seventh after Run 1 and 11th overnight but couldn't break back into the top 10 in a fierce contest in Konigssee, Germany.
Times of 51.46 and 51.36 seconds were quicker than those they had recorded in Runs 1 and 2 yesterday but they weren't fast enough for the World Junior Champions to close the gap on those around them.
America's Elana Meyers Taylor regained the World Championship crown she claimed back in 2015 as she and Kehri Jones pipped Canada's Kaillie Humphries and Melissa Lotholz to the title by just three hundredths of a second over four miles of racing. Jamie Greubel Poser and Aja Evans took bronze for the United States, with home favourites Mariama Jamanka and Annika Drazek fourth.
The action continues on Sunday as two British crews compete in the second part of the 2-man competition at the same track.
Bruce Tasker and Joel Fearon sit eighth at the halfway stage, with Brad Hall and Sam Blanchet 23rd.
The men's and women's skeleton and the 4-man bobsleigh races take place next weekend, with the remaining schedule copied below.
World Championships (Konigssee, Germany). Women's Bobsleigh: 1 E Meyers Taylor (USA) 3m 24.75s (51.60s, 51.54, 50.86 & 50.75); 2 K Humphries (CAN) 3-24.78 (51.68, 51.48, 50.87 & 50.75); 3 J Greubel Poser 3-24.98 (51.81, 51.38, 51.09 & 50.70); 16 M McNeill (GB) 3-26.59 (51.84, 51.93, 51.46 & 51.36)
Remaining World Championship schedule (all times are GMT):
Sun 19 Feb
Men's 2-man Bobsleigh 9.30am
Fri 24 Feb
Men's Skeleton 10am
Women's Skeleton 2pm
Sat 25 Feb
Women's Skeleton 7.30am
Men's 4-man Bobsleigh 12.30pm
Sun 26 Feb
Men's Skeleton 7.30am
Men's 4-man Bobsleigh 12.30pm