Medals galore for GB Skeleton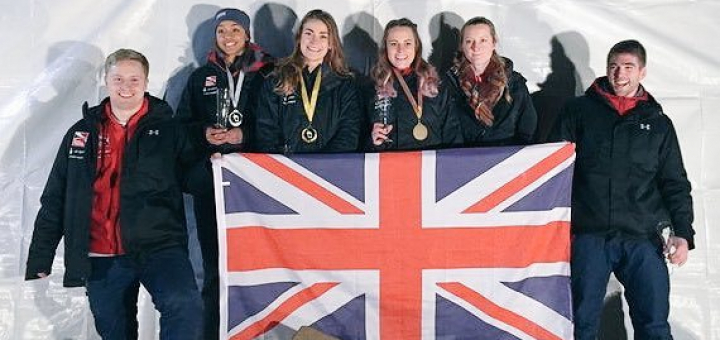 GB Skeleton enjoyed a stunning start to the season as they won 10 medals across three international circuits over the space of just five days.
Olympic Champion Lizzy Yarnold kicked things off with bronze in the opening World Cup race in Lake Placid on Thursday before the rest of the squad bagged three golds, three silvers and three more bronze medals over the days that followed.
Ellie Furneaux led the way on the Europa Cup (EC) circuit out in Norway as she won back-to-back golds, with Craig Thompson also taking top spot in the first of his two races in Lillehammer.
Brogan Crowley claimed a brace of silvers behind Furneaux and debutant Hannah Stevenson ensured GB completed a remarkable 1-2-3 when she took bronze in the second EC race on Sunday morning.
That clean sweep of the medals mirrored the achievement of Laura Deas, Rose McGrandle and Yarnold in Winterberg seven years ago, with all three of those sliders going on to win medals on the World Cup circuit in the seasons that have followed.
Thompson also added a bronze to his tally on Sunday, before Marcus Wyatt claimed silver in Intercontinental Cup (ICC) competition in Calgary later the same day. Kim Murray then completed the haul with ICC bronze on Monday.
There were also two top fives for Maddy Smith in ICC competition, while Stefan Squire and Philippa Brett recorded top 10 results on their first-ever weekend of EC action.
The EC squad enjoyed a superb weekend in Norway
"Delivering a performance platform to push on from was the mandate for the opening weeks of the season and the last few days delivered that almost perfectly," said GB Skeleton's Head of Performance, Danny Holdcroft.
"Performance outcome is always the go to reference for success but it is the ability of the athletes and everyone in the programme as a whole to reflect, learn and better themselves that is just as impressive.
"It is this process driven focus which underpins our sustained success strategy for GB Skeleton and that's what will ensure that the platform of the past few days is built upon.
The medal tally across all the circuits is a massive plus, but what the women delivered in Lillehammer is something that deserves its own special recognition. To record a 1,2 and 3 on an international sporting stage is a huge achievement. It's not something that is common across all sports and for us to achieve it without having our own ice track makes it even more impressive.
"Whilst not wanting to make too many comparisons, it does bring it bring back some great memories of Laura, Lizzy and Rose, who achieved the same feat in Winterberg in 2010 and who all went on to achieve bigger things.
"It's always important that we enjoy these moments, but the next step for them is to ensure their feet remain grounded. We are a forward-thinking programme and we are only as good as our next performance. The future seems bright and exciting on all levels, though."
Lizzy Yarnold won World Cup bronze, with Laura Deas 5th
The World Cup squad are in action this Friday and Saturday out in Park City in the United States, with the EC team ready for another double race in Winterberg on the same days.
The ICC team now have a break in their race schedule but are instead heading out to Altenberg for a training camp this weekend.