Medal inspires youngsters says Deas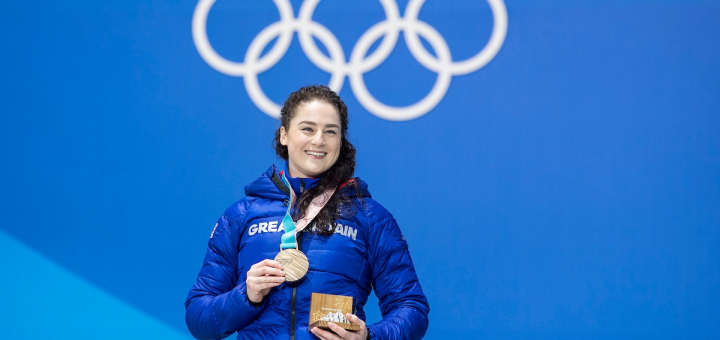 Olympic skeleton star Laura Deas says one of the best things about her South Korean success is the impact that sharing her bronze medal has had on the hundreds of schoolchildren she has talked to since returning to the UK.
Deas medalled at her first Winter Games in PyeongChang in February and has since visited more than a dozen schools as she looks to inspire the next generation to be the best they can be, whatever path they choose to follow.
And while the 29-year-old had shared her skeleton story on numerous occasions in similar environments prior to PyeongChang, she insists that the medal has made a massive difference to how the children engage with what she has to say.
"People's eyes light up when you show them the medal," said Deas, who finished third behind compatriot Lizzy Yarnold and Germany's Jacqueline Loelling at the sport's showpiece event four months ago.
It inspires people in a way that me simply talking to them could never do. To see their expressions when they hold it is really quite special.
"The medal is a real, tangible way of underlining what I've always said: if you work hard at something for long enough and you fully commit to something, it will be worth it in the end."
And it's not just those she talks to who are somewhat star-struck by the medal itself: Deas admits she, too, still finds it surreal to recognise that she is an Olympic medalist.
"When people talk to me about other people who have been to an Olympics or won Olympic medals, I still look up to them in a way that I don't look at myself," added Deas.
"I don't see myself on the same level and I have to check myself and remember, 'Yes, I did actually do that, too!'
Some days it feels very normal to be an Olympic bronze medalist but others I almost forget and have to be reminded of it.
"It's amazing how much of a blur the actual race is. I have seen my runs back a few times now, particularly the last run, so I've got a clear idea of how they played out and what I was thinking at the time but what I'd love to do is watch the whole race back and see how it all played out.
"I was so focussed on myself in that moment of time that I wasn't really taking in the bigger picture that everyone watching back home or at the track would have been experiencing."
Laura Deas still struggles to believe what she has achieved (pic by Andy J Ryan)
As for the medal itself, it may be 16 weeks since that glorious evening at the Olympic Sliding Centre in Alpensia but the symbol of Deas' success still doesn't have a permanent home.
"I'm still busy taking it out and about and showing people, plus we've moved house, so it doesn't really have a set home yet. There are still loads of people that I'll be seeing for the first time since the Olympics so it stays in and around my person at the moment.
There's been so much going on since I came back from the Games. The first few weeks was mad with media requests and exciting invitations to nice events and various other opportunities. It was a real whirlwind, but I'm so pleased to be in this position.
"I got married earlier this month so we had plenty of planning to do on that front, too, but things have generally calmed down a bit now. I've had a chance to spend some time at home, see family and friends, chill out and reset. I'm now ready to go again and am fully focussed on the new season and the World Championships in Whistler."