Bob spirits high for start of Worlds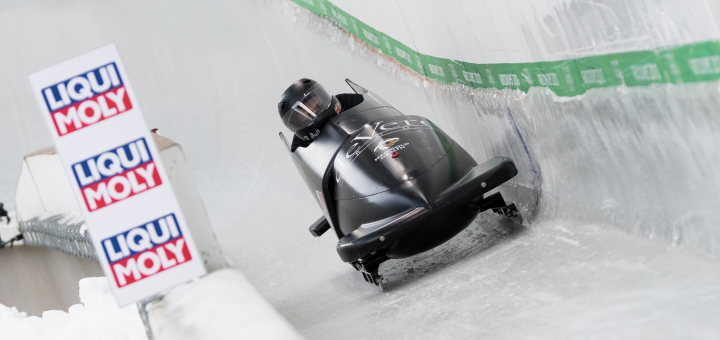 British Bobsleigh are in good spirits ahead of the start of the World Championships despite knowing how much is resting on a good result in Canada.
The team have been on transitional funding from UK Sport (UKS) this season but there are currently no plans for funding to continue for the remainder of the Beijing Olympic cycle.
A positive result at the season's showpiece in Whistler would certainly help when it comes to future discussions with UKS but Performance Director Lee Johnston insists there is no added pressure on the group for the last meet of the season.
"Everyone knows the results we need and the team is working well towards that goal," said Johnston.
"I haven't put any pressure on them, though. These are world-class athletes and they know what we need to do. They know what area we need to be in for me to be able to discuss continued funding with UK Sport. 
My job as a coach is to make sure they're all in the best place possible and to alleviate some of that pressure.
"It's not something we're focussed on or worrying about - we're just concentrating on doing what we know we're capable of come race day."
This weekend's action sees the 2-man and women's teams take centre stage on both Saturday and Sunday, with the 4-man events taking place a week later.
Brad Hall and Nick Gleeson and Lamin Deen and Toby Olubi go for GB in the first heat of the 2-man race at 1am GMT on Saturday before Mica McNeill and Montell Douglas begin their campaign at 7.30pm.
And while there haven't been any World Cup medals since the last time the circuit stopped in Whistler in November 2017, there have been some very encouraging results so far this season. McNeill and Douglas finished a fine fourth in Altenberg in January; Hall and Gleeson secured the country's first World Cup 2-man top-six spot for 13 years in their most recent outing; and Deen enjoyed plenty of success on the North American Cup (NAC) circuit before joining the World Cup competition for the last two race weeks.
Mica McNeill & Montell Douglas go for GB in the women's race
"They all seem to be in really good spirits, and that's a good sign," added Johnston.
"Brad seems very confident. Training has been separated into two groups and we've had the Germans and Latvians in our group so we've been training with four of the five top 2-man teams in the world. Brad has held his own throughout. The sled he's using after the fund raising campaign and the runners he's also been able to rent with the money he's raised are looking good.
Mica's driving has been very, very good this season - it's been on par with some of the best in the world.
"She normally puts runs together very well when it comes to racing and I'm hoping that's no different this weekend. I firmly believe she'll do what she needs to do in the race. 
"And it's a huge boost to have Montell back after injury. She's not raced since January but having Montell on the sled means they'll push where they need to push.
"Everyone believes Lamin is more of a 4-man specialist but Lamin's got Toby on the back of his sled and they've got three Olympic Games between them. They're a strong team and they could well pull something out of the bag."
Lamin Deen & Toby Olubi were team-mates at the 2018 Winter Olympics
If the team are to succeed in the season finale, Johnston knows that concentration will be key come the weekend.
Whistler is renowned as the fastest track in the world - Deen hit a world record 97mph there 16 months ago - and the slightest blip could easily mean the end of the road.
It's one of the reasons Hall and McNeill missed the final part of the World Cup season in favour of spending extra time at the World Championship track and Johnston is hoping it's a move that pays off with a positive result. 
The track is a little bit trickier than it was when we were here for the NAC in November so I'm hoping that the plan to miss the last World Cup and come here will be of benefit. But we won't know until we start racing.
"It's a very well put together World Championships but there have been a lot of crashes. We've got to get four runs - four consistent runs. It's the same at every World Championships and Olympic Games but this track has a little bit more spice. If you lose your concentration for a split second, this track will bite you and then your World Championships will be over."