History made with 2-man silver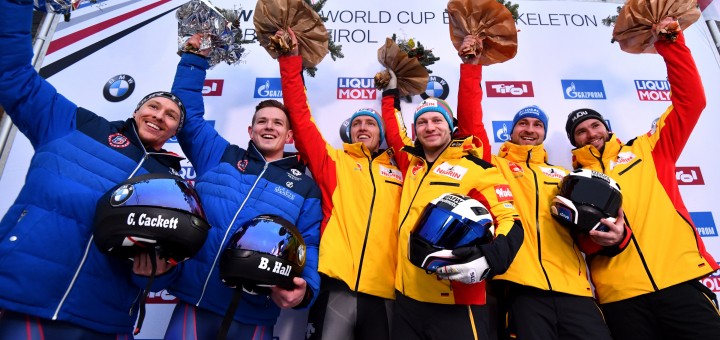 Great Britain won their first World Cup 2-man bobsleigh medal since official records began as Brad Hall and Greg Cackett secured silver in Igls on Saturday.
Pilot Hall and brakeman Cackett sat third at the halfway mark in Austria before jumping up a spot in Run 2 to seal the country's best 2-man result in the sport's top-tier competition for as far back as the international federation can remember.
The history-making result arrived exactly a week after the British pair came within a whisker of a similar success when they finished fourth in France and Hall says it's difficult to describe the emotion that accompanied today's stunning performance.
"It's an absolutely incredible feeling. If you told us last week that we were going to finish in the top six two weeks in a row, let alone fourth and second, we wouldn't have believed you," said Hall, who started his bobsleigh career as a push athlete before transitioning into life as a driver in the lead up to the 2018 Olympic Winter Games.
"These last two weeks have been really tough - me and Greg have been feeling under the weather - but we managed to pull out two consistent runs and to be stood on the podium with a silver medal around our necks is really, really special.
To be rewriting history at this stage in our careers is amazing.
"We've carried on from where the team left off last year in the 2-man - this isn't a one off. We've gone ninth, eighth, sixth, fourth at the World Championships (with Nick Gleeson), fourth at the World Cup and now second here (with Cackett). We're on the way up and it's a sign of good things to come, I hope."
Brad Hall & Greg Cackett have enjoyed a stellar fortnight
Despite starting 18th of 25 sleds, Hall and Cackett clocked a first run time of 52.22 seconds on Austria's 1976 Olympic track, which sits on the site where Tony Nash and Robin Dixon won Great Britain's maiden Olympic bobsleigh gold back in 1964.
They then finished Run 2 in 52.39 for a combined time of 1 minute 44.61 seconds as they leapfrogged Germany's Richard Oelsner and Tobias Schneider into silver by just one hundredth of a second.
They finished a further 15 hundredths ahead of Oelsner's hugely experienced team-mate, Nico Walther, with only reigning World and Olympic Champion Francesco Friedrich ahead of them in the final standings.  
"I couldn't believe it when we were in the leader's box watching Oelsner's run. They had a good margin on us after the first run so I thought that just holding our position in third was going to be tough enough," added Hall. 
"Seeing them bleeding time all the way down the track, our eyes were lighting up and we were on the edge of our seats, as it were, waiting for them to cross that finish line. To end up just a hundredth of a second ahead of them was absolutely incredible.
"We've still got a lot to improve on in the start - which is a good thing as it shows we can keep getting better - but to get a medal is just amazing.
Showing this level of consistency and, hopefully, keeping on pushing for these medals, will be brilliant for us in the build up to the Beijing Olympics in a couple of years' time.
"Big thanks to all the boys in the team. We're a really tight unit and they've all been a part of this."
The result was even more impressive in that it came in just the pair's third ever 2-man race together and on the back of an injury ravaged start to the season.
Hall had been forced to pull out of Europa Cup competition due to injury prior to Christmas, while Cackett is only a few weeks into his return to the sport following a two-year absence having switched to cycling after the PyeongChang Olympics.
It also follows significant injuries to fellow crew members Sam Blanchett and Alan Toward, as well as the bout of illness that hit them hard earlier this month.
The medal is the pair's second on the World Cup circuit, with Hall having piloted Cackett and 2014 Olympic bronze medalists Joel Fearon and Bruce Tasker to 4-man bronze in Park City in November 2017.
It follows on from an historic end to last season for Hall when he and Nick Gleeson equalled the country's best World Championship 2-man result for 53 years when they finished joint fourth in Whistler 11 months ago.
Next up for Hall and Cackett is the 4-man race in Igls tomorrow when they take to the ice alongside Luke Dawes and Taylor Lawrence from 12.30pm GMT.