High praise for retiring Tasker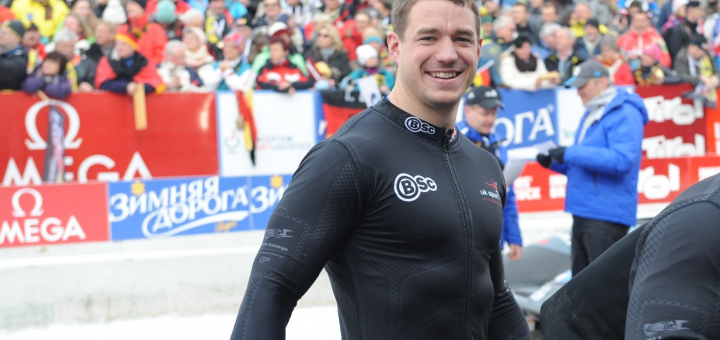 Bruce Tasker has been described as 'Mr Bobsleigh' after he announced his retirement from the sport following a stellar eight-year career.
Tasker suffered a stroke in January of this year but had been considering stepping down from competition at the end of the Olympic cycle regardless.
The 31-year-old former 400 and 200 metre runner missed the PyeongChang Olympics as a result of the stroke but is in line to receive a retrospective bronze medal from the 2014 Games in Sochi.
Tasker finished fifth in the 4-man event with John Jackson, Stu Benson and Joel Fearon at his first Olympics but the disqualification of two Russian sleds means he could now match Laura Deas in becoming a Welsh Winter Olympic medalist.
"I will be retiring as an athlete from British Bobsleigh. It's a decision I've not taken lightly and one I have been thinking about for over a year," said Tasker.
"The stroke I suffered early in the year certainly had an impact but, after eight years in the sport, I was preparing to step down anyway.
"I wish all the athletes the best of luck this year on season and hope that one day I can be involved in the sport again."
As well as his historic Olympic exploits in Sochi four years ago, Tasker tasted success on the World Cup, Europa Cup and North American Cup circuits.
He won World Cup silver with his Sochi crew at Lake Placid in 2013, World Cup bronze with Brad Hall, Greg Cackett and Fearon in Park City 11 months ago and appeared at no fewer than six World Championships after joining the programme in 2010.
Having started as a push athlete, Tasker went on to become a pilot, making history at the 2016 World Championships when he drove Fearon to a fourth-place finish in the 2-man competition - Great Britain's best World Championship result in that discipline for fully 50 years.
Bruce Tasker drove GB to their best 2-man result since 1966 in 2016
"Bruce has had an outstanding career," said British Bobsleigh Head Coach, Lee Johnston. "When he first arrived here we knew he was going to be the total package. And at no time has that ever changed.
"He was heavily involved in some of the country's biggest success stories in recent years and he made a massive impression as both a driver and a push athlete.
It's not exaggerating to say that there are very few British bobsleigh athletes that have achieved so much as both a brakeman and a pilot at the same time: Bruce got world-class results in the back of the sled and in the front.
"Just as importantly, he had a huge impact as a person. He was 'Mr Bobsleigh'. Everything he did, he did for the good of the team. He had a big presence in the squad and was respected by all his team mates and the staff, both on and off the ice.
"Bruce's stroke was a big setback for him personally and for the team but his disappointment didn't stop him coming to the hotel to wish everyone all the best before we flew to PyeongChang. That shows the true measure of the man.
For me, Bruce Tasker epitomises what is required to be a bobsleigher. He is a true professional, a true athlete and, more importantly, a true gent.
"He will be missed greatly but we back his decision 100 per cent. We know he will stay in touch and we hope to welcome him back into the fold in another capacity in the not too distant future."