Worlds leaves duo wanting more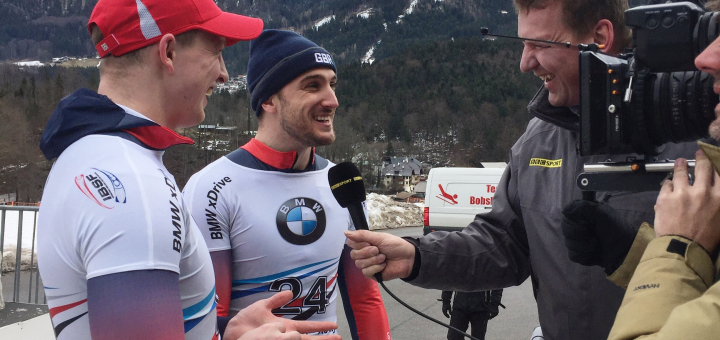 GB Skeleton sliders Jack Thomas and Jerry Rice have the big competition buzz after their World Championship debuts late last month.
The pair made their global championship bow in Konigssee, Germany in the penultimate event of the season, with Thomas finishing 16th and Rice 19th as they helped the country achieve three top-20 finishes in the male field for the first time since 2013.
Their appearances at the showpiece event of the year came less than 12 months after they made their maiden World Cup appearance at the same track and both men are now determined to ensure their remarkable rise continues on the path to the next Olympics in Pyeongchang.
"It definitely makes you want more," said Rice, who won the overall Intercontinental Cup crown this season and now has his sights set on an Olympic spot in South Korea.
"That's where I want to be. If I can get there, then brilliant. This has been a good experience on the road to it.
It was a great weekend. I had a load of support, had a lot of fun and learnt a great deal. Overall, it was an awesome experience.
"Every single day that you slide, you try and get better, and you learn from your mistakes. There's obviously a little bit of a gap as to where I need to be: I was pleased with the first day but I had a bad second day and it ended with a bit of disappointment. That consistency comes with experience, though. I'll very quickly recover from that and I'll be ready for the next one."
Jerry Rice made his World Championship debut a year in Konigssee
Rice will have to wait until the new season for his next race but Thomas will be back in action this Friday for the final World Cup competition of the season.
Thomas takes to the newly-built track in Pyeongchang for what doubles as an Olympic test event at 9am GMT and the 26-year-old is aiming to start where he left off in South Korea after clocking the ninth fastest time in his final heat at the Worlds.
"I know I'm good enough to be competing at the top, not just coming 16th, 15 or 14th. I know I can get into that top tier and top ten for the next race is definitely the goal," said Thomas, who admits to being disappointed with how the first day of the World Championships went but delighted with how they concluded.
"I don't what was going on with my push: I'd been challenging the top few in the world with my push the previous few weeks but then I was starting 16th or 17th in the first three runs.
In the last run, I pushed on the other side of the sled - I think I'm the only person in the world who pushes both sides - and I ended up going over a tenth of a second quicker.
"I'd just chilled out in between the first and second days of racing and that helped. I spoke to Woody (ice coach Mark Wood MBE) and he told me to go and enjoy myself, have fun and relish the experience. And that's what I did.
"It was nice to have a day off in between because I was pretty disappointed with the first day. I spoke to my girlfriend, Sally, to my mum and dad and to Woody and I just got myself in a good place. 100 per cent I'll remember that moving forward."